Today we will show you how to activate/register Corporation Bank mobile banking facility. With mobile banking  facility customers can manage their bank account on smartphone.
Corporation Bank has launched latest mobile banking application – Corp EASE which available on Android and iOS both platform. You can check account balance and statement, transfer money to any bank account, block and unblock atm card, request new cheque book, open FD and RD and more on Corp EASE mobile banking.
Here we will tell you step by step process how to activate Corp EASE mobile banking application.
Activate/Register Corporation Bank Mobile Banking (Corp EASE)
Please note, if you are still using Corporation Bank old mobile banking App then first remove it from your phone and install latest mobile banking app – Corp EASE. Here is link – Android & iOS
Now see step by step activation process:-
Before you start, make sure your Debit card is active and have PIN. Your mobile number also registered with your bank account. Use registered mobile number on your phone.
1: Download and install Corp EASE on your phone.
2: Open application and tap on Confirm. The App will send SMS from your number to verify phone number so make sure you have sufficient balance.
3: After verifying your phone number you can see your mobile number, tap on Confirm . You need to enter One Time Password on next screen or it will be detected automatically.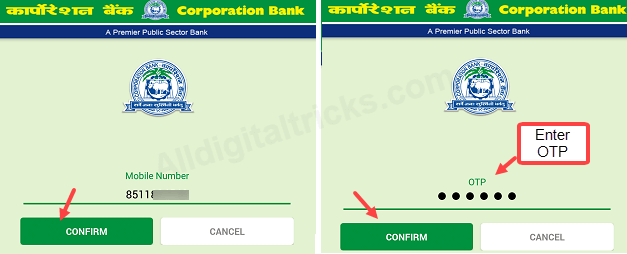 4: Next screen you can see your Account number which linked with your mobile number. Select Account number.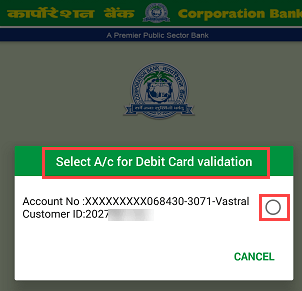 5: On next screen enter your ATM Debit card last 6-digit number, expiry date and PIN and tap on proceed.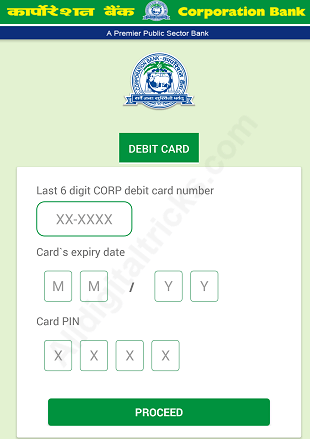 6: And in final step, set your 6-digit login (Secure) PIN and 4-digit transaction (TPIN) PIN and proceed. TPIN required when you request any service like transfer money etc.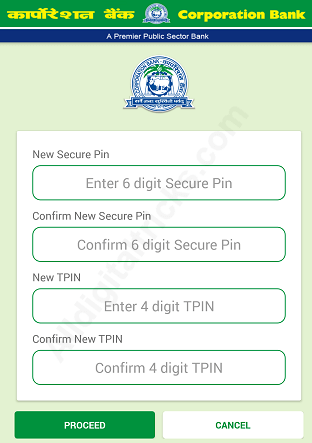 That's all you are successfully registered with Corporation Bank mobile banking facility. Now you can login on mobile banking by entering login pin.
So this is how Corporation Bank customers can activate or register for mobile banking facility (Corp EASE) and manage their bank account on phone.