So you received your Debit Card after applying online through net banking. In my last article i write about how to apply SBI Debit card online without visiting branch.
Today i will show you how to activate your Debit card without visiting branch, this facility also available on net banking.
In past, when you received your card, you need to visit your branch to activate your card and receive PIN. But now this facility become online, you don't need to visit branch to activate your SBI Debit card OR for PIN.
So let's see how can you activate your New Debit card and generate PIN Online, process is very simple and fast.
1. Activate your SBI Debit Card online
I assume you received your card after applying online, now you need to activate it, after this you can use it.
So let's activate it.
1: First login to your SBI Net banking account. Enter your user name and password and login.
2: After login, you can see e-Services tab, just click on it open.
In e-Services, you can see many atm related options, you have to click on ATM Card services option.
2: ATM Card Services allows you to manage your card, here you need to click New ATM Card Activation.
3: Now enter your 16-digit number ATM card number, once again enter it and click on Activate.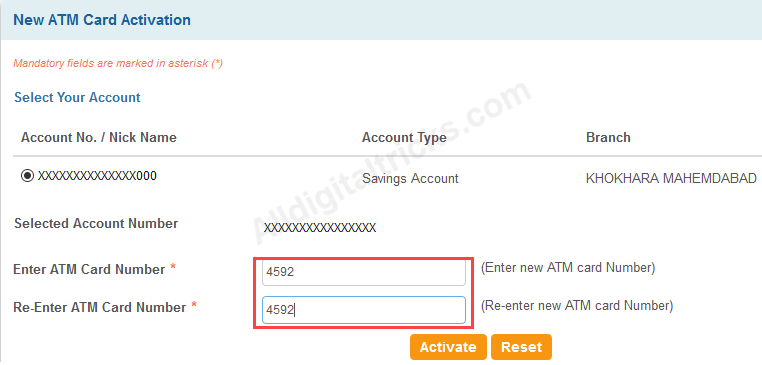 That's it, your Debit card now successfully activated, now you need to generate PIN online.
2. Generate Your Debit card PIN Online
1:Our card activated, now we need to generate PIN number. You can do this at ATM Card Services option.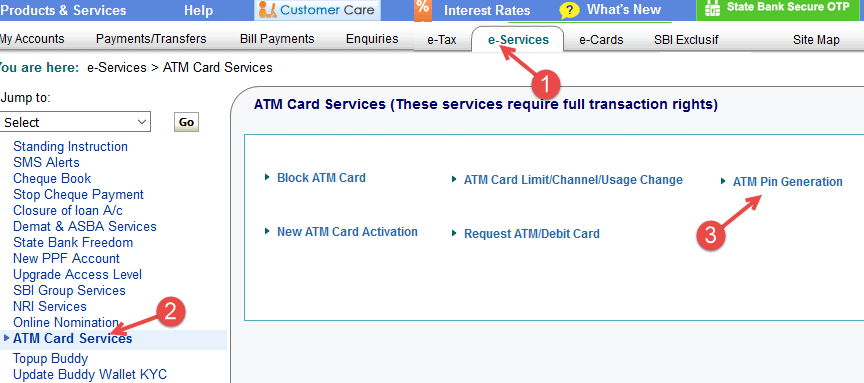 Click and open e-services — ATM card Services.
Now click ATM PIN generation
2: Next screen you need to select Profile password OR OTP option to validate account. Select any option and enter required password or OTP.

3: Next screen select your account number.
4: Now select your new card and click on submit.

5: In next screen, just enter first two digit of your desired PIN & submit.

Now you will receive SMS of last 2 digit of your PIN on registered mobile number.
Next screen enter your first two digit and enter last two digit which you received on yur number. Now click on submit.

That's all you have successfully Generate your PIN number.
Now visit any ATM machine and you can use it.
So friends this is the simple procedure to activate your SBI Debit card online and generate PIN online.