UCO Bank account holders can now activate Debit card online through the Mobile banking app. Yes, if you have applied for a new ATM/Debit card and want to activate it then no need to visit. You can activate your ATM card online.
When you receive your UCO Bank Debit card, you need to activate it, then you can use it for ATM withdrawal and online transactions. Without activating your card, you can't use it anywhere.
UCO Mobile Banking application lets you activate your new Debit card online without visiting the branch.
Here we will tell you – how to activate UCO ATM card online.
UCO Bank ATM Card Activation Online
Login to the UCO Mobile Banking app and tap onthe Manage Cards option.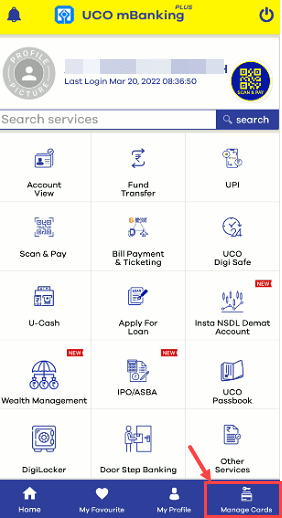 Next screen tap and open Physical Debit Card Activation.
Now select your account number and enter your 16-digit card number, expiry month and year and proceed. That's it. Your new Debit card will be activated instantly and you can use your card at any ATM and online.
FAQ
Q.1: I have received my new ATM card, how to activate it?
Ans: For UCO bank Debit card activation, you don't need to visit the bank, just open the Mobile Banking app and activate your card online.
Q.2: After getting my new UCO Debit card, I'm unable to use it at any ATM or online, why?
Ans: First you need to activate your new UCO Debit card which can be done online.
Q.3: Where can I find my card number and expiry month & date?
Ans: You can find your 16-digit card number and expiry month/year on the front of the card. You need to enter these details to activate your card.
Q.4: During the activation process, I'm unable to activate it, why?
Ans: You have entered the wrong card details, please enter the correct details.