In this post, you will learn how to add Beneficiary in PNB Mobile Banking.
By adding beneficiary you will be able to transfer money to other bank accounts from your Punjab National Bank account. Without adding the beneficiary, you can't send money to other bank accounts on mobile banking.
Another benefit is that you don't need to enter person's bank account details again n again.
After adding the beneficiary, you can transfer up to 2 lac through IMPS and 10 lac through NEFT and RTGS.
So here is step by step guide on how to add Beneficiary on PNB mobile banking.
Add Beneficiary in PNB Mobile Banking
If you are using PNB Mobile Banking and want to transfer money from your Bank account to other bank accounts then follow this process and add Beneficiary first.
(1) Login to PNB Mobile Banking by entering User ID and login password.
(2) After login, tap and open Transfers tab & next screen select Manage Beneficiary option.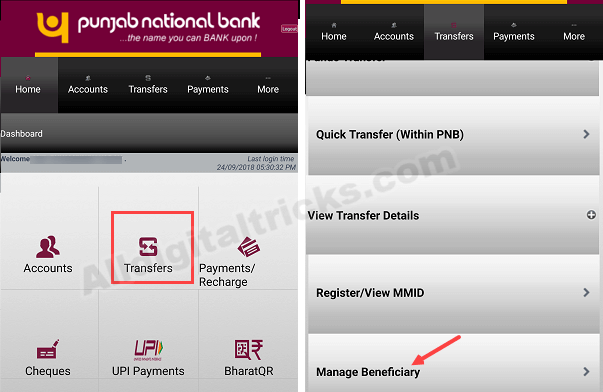 (3) You can see here added Beneficiary list. Tap on Add Beneficiary.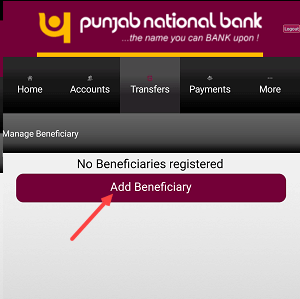 (4) Now select Within Bank or Other Banks. If you are adding any PNB account then select Within Bank and if you are adding other bank accounts then select Other Banks.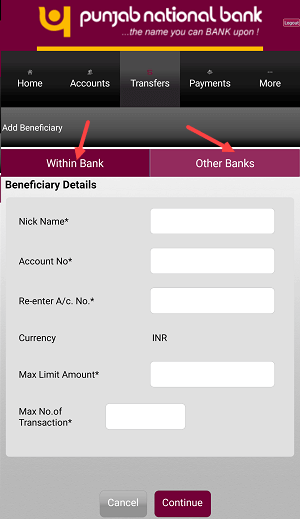 Add all banking details of the beneficiary like Name, Account number, IFSC code, set max. limit, max. transactions, address, and tap on continue.
(5) Now enter transaction password and submit.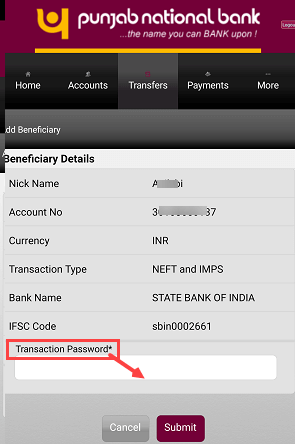 Done! Beneficiary added successfully and now you can transfer money to this beneficiary's account from your account using IMPS and NEFT. Tap on Transfers option and select IMPS or NEFT and select Beneficiary to send money.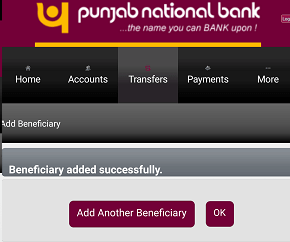 Please note, you can transfer money according to the maximum limit which set by you during adding the beneficiary. You can change the limit anytime in Manage beneficiary.
So this is how to add the beneficiary in PNB Mobile Banking for online fund transfer. You can also use PNB net banking facility to register the beneficiary account.