On PayTM Wallet, you can not add money through SBI Internet Banking, because the State Bank of India has blocked all wallets and restrict them to add money from SBI account. You can see there is no SBI option while adding money to your wallet.
SBI has its own SBI Buddy wallet, so it is possible that the bank has restrict other wallets to force SBI customers to use Buddy wallet.
However, after this restriction of SBI, you can still able to Add money to your PayTM wallet from SBI Account using Internet banking.
Now you might be wondering how to add money to your PayTM wallet from your SBI account through Internet Banking? – so today I'm going to tell you about this.
Add Money to PayTM Wallet Through SBI Internet Banking
You just need to follow below 2 simple steps and you are done! You just need State Bank Internet banking facility.
Step # 1: Create SBI Virtual Card
If you don't know about SBI virtual card, here is complete detail – How to Generate SBI Virtual card?
1 First, you have to login to SBI Internet Banking. Click on the below link to login.
2 After logging in, you have to click on e-Services and then click on e-Cards.
3 In next screen, select your account number and then enter the amount which you want to add in PayTM wallet in card limit option. Suppose i'm going to add Rs.100 so my card limit is Rs.100.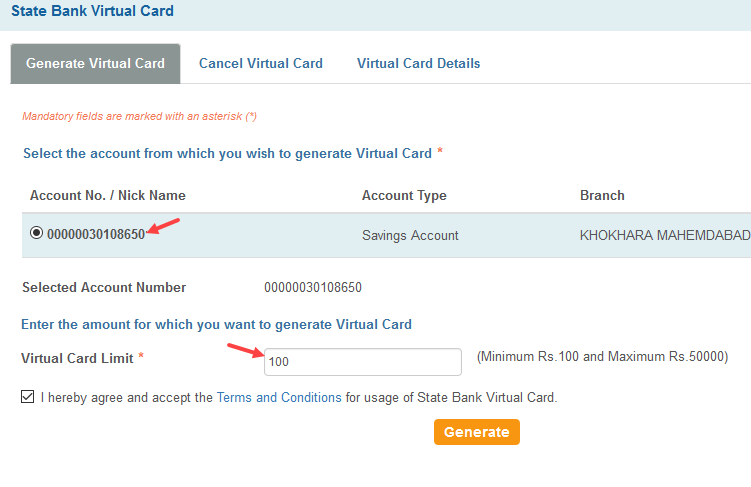 Now click on Generate Now
4 Now you have to confirm the details in the next screen.
After confirming, you will receive OTP on your registered mobile number which you need to enter on next screen to validate the transaction.
5 Done! your SBI virtual card is ready, you can see card number, expiry date & cvv. This card will be active only for 48 Hours and then it will expire. If card amount not used, the money will be credited back to your account.
Now we will use this card to add money to PayTM wallet.
Step # 2: Add Money To PayTM using Virtual card
Now we are going to add money on PayTM using this virtual card.
1: Open PayTM Wallet and tap on Add Money.
2: Now type Amount in the next screen.
3: In next screen you have to select the Debit Card in the Payment option.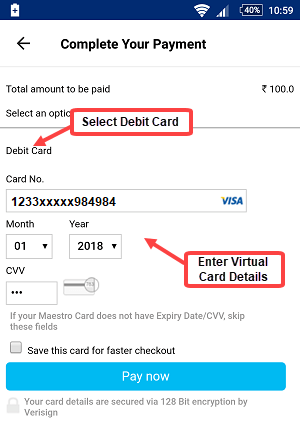 In Debit card details, you have to type your SBI Virtual Card number, Expiry date and CVV and click Pay Now.
4: Now on the next screen you have to type OTP which received on your registered mobile number.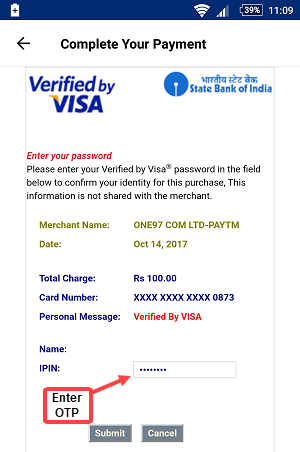 Enter OTP and tap on Submit.
That's all! you have successfully added money to your PayTM wallet using SBI virtual card.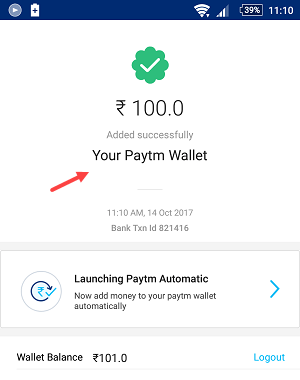 Finishing
So, this is simple process to add money from your SBI account using Internet banking. You just need net banking facility. You can also use your physical debit card instead of this card, but if you don't want to use that then this virtual card will work for you.