Andhra Bank email statement (e-statement) facility enables you to receive account transaction details through email. You will be able to receive an account statement in PDF format on your email ID.
By enabling this email statement facility, you don't need to visit Bank for passbook printing to check your account transaction history. You will receive a monthly account statement directly on your email ID after activating the email statement online.
Here we will tell you step by step – How to activate Email statement facility online in Andhra Bank.
Activate Andhra Bank Email Statement Online
Andhra Bank customers can enable email statement online using Andhra Mobile Banking. Make sure you have Andhra Bank mobile banking facility enabled on your mobile.
First login to Andhra Mobile Banking and open My Profile in the options bar.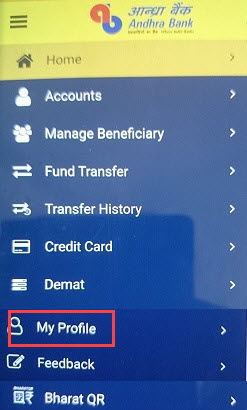 In My profile tap on the update e-mail option.
Now enter your email ID and submit.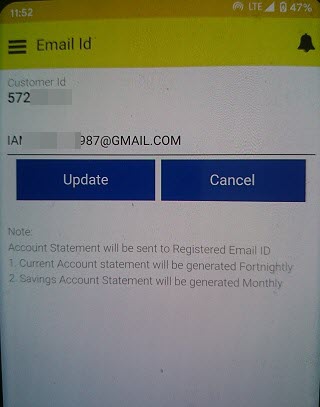 Ok done, account statement will be sent to this registered email ID. You will receive account statement in PDF format every month.
This e-statement is password protected. To open and view statement, please enter your 8-digit customer ID when the system prompts for the password. Your customer ID will be available on your passbook.
FAQ
Q.1: How to receive the account statement of my Andhra bank account on email ID?
Ans: Just register your account online for an e-statement facility by following the above steps.
Q.2: How to get Andhra account statement PDF file?
Ans: You can register the Andhra Bank email statement facility to receive an Account statement in PDF format every month.
Q.3: I want to receive my Andhra account statement every month online, how?
Ans: Just enable Andhra e-statement service to receive account statement online every month.
Q.4: How to open my Andhra Bank email statement PDF file?
Ans: You can use any PDF reader app on your mobile phone to open account statement PDF file. This PDF file will be password protected, so you need to enter your customer ID (which you can find on your bank passbook) to open the statement PDF file.