Eligible HDFC customers can now apply for life Time Free Credit Card online directly through net banking or mobile banking. You just need to fill an online application form and submit an online request.
What is the HDFC Pre-approved Credit card?
HDFC Bank offers a Pre–approved credit card for existing customers and requires no documentation and are hassle-free application process. If you are HDFC customer and want to apply for a credit card then you can check it online whether you are eligible or not. If you are eligible for a pre-approved credit card then you can apply online.
Apply HDFC Lifetime Free Credit card Online
Pre-approved lifetime credit card application is paperless and you don't need to visit Bank. You just need to submit the application form online by login to Internet Banking.
First, log in to HDFC Net Banking:
After login, click on the Offers tab, here you can see "Congrats! You are Pre-approved for a Lifetime Free Credit Card" Just click on this link.

Next screen, you need to fill the application form. Enter your full address details and other information and submit your application.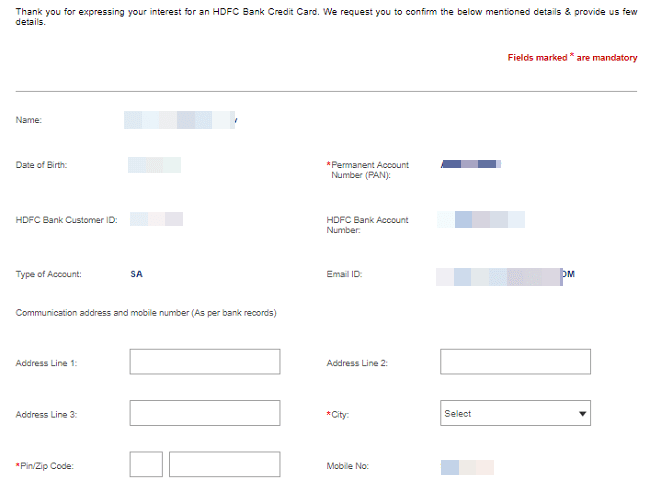 After submitting an online request, your credit card request will be fulfilled within 15 days and card will be delivered to your mail address. You can generate your card pin online.
HDFC Credit cardholders can manage their credit card through net banking and mobile banking, just link your card by logging in to net banking or mobile banking.
You can also track your credit card application status through this link: https://apply.hdfcbank.com/dapweb/trackapplication
Kindly contact HDFC customer care for any credit card related query: Click
Please note, this lifetime pre-approved credit card available only for eligible customers. You will see the notification message when login to net baking or mobile baking.
FAQ
Q.1: how to check pre-approved credit card in HDFC bank?
Ans: Just log in to net banking, if you are eligible for a pre-approved credit card then you can see the offer screen.
Q.2: Do I need to submit physical documents for a pre-approved credit card?
Ans: No, the process is completely online and paperless. Just fill the online application and submit.