After opening Kotak 811 Zero balance saving account online, you get the Virtual Debit Card. You can see this virtual card after login to Kotak mobile banking application.
Now you can also apply for kotak 811 Physical Debit card. Virtual Debit card only works for online so if you want to use your card at ATM or POS then you can apply for physical Debit card.
To apply Kotak 811 physical debit card you don't need to visit bank, you can apply online through Kotak Mobile Baking App. See how:-
Apply Kotak 811 Physical Debit Card online
Let me tell you first, 811 Physical Debit card issue charge is Rs.199+tax and then you will charges Rs.299 every year. This card is VISA International Debit card.
Virtual card is free but if you want physical Debit Card then you will have to pay its annual charge, which usually levied by all banks.
Let's see how to apply for this card online.
Once the 811 account is open, you can access your account at Kotak Mobile Banking Application, which is available on Android, iOS, Windows Phone.
1: Login to Kotak Mobile Banking first.
2: After logging in, you have to tap on Kotak 811 in the Banking tab.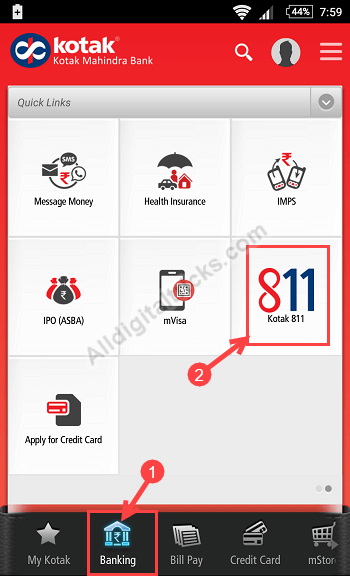 3: Next screen you can see your Virtual Debit Card with card number, expiry date and CVV number.
To apply Physical Card you have to tap on "Get one now" under "Physical card issued".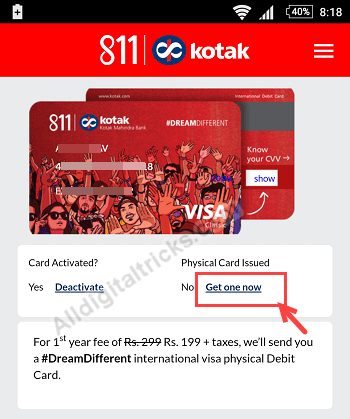 4: That's it, you have successfully applied for your Kotak 811 physical debit card. You can see success message.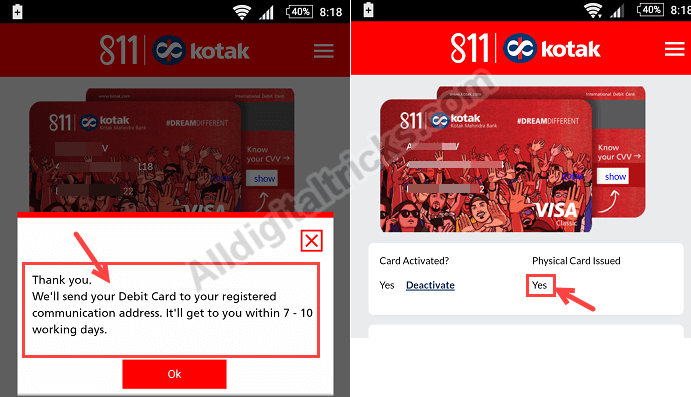 Your card will be delivered to your home address within 10 days. You will also receive PIN number separately.
Rs.199+tax will be debited from your account.
After getting your 811 physical Debit card , you can generate its pin through mobile banking and Net banking.
So in this way you can order your kotak 811 Physical Debit Card. Remember other kotak saving account holders can also apply for this 811 account including debit card.