Punjab National Bank customers can now apply for PNB Debit Card online without visiting branch. PNB new mobile banking application PNB one now enables you to request new PNB ATM Debit card online.
Punjab National Bank is the largest public sector bank in the country and serving banking products across the country.
If you are existing PNB customer and want to apply for a new Debit card then no need to visit the branch, just open PNB Mobile Banking application and order ATM card online.
PNB Debit Card Apply Online
For some reasons, if you blocked your current Debit card or want to replace it, then follow below steps and get new PNB ATM Debit card online.
1: First of all, register for PNB Mobile Banking application read this: How to activate PNB Mobile Banking
2: After registration, login to PNB One Mobile Banking by entering MPIN.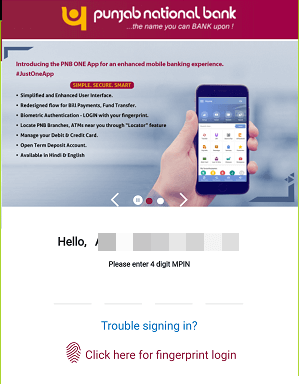 3: After login to PNB One, tap on Services tab as you can see below screenshot.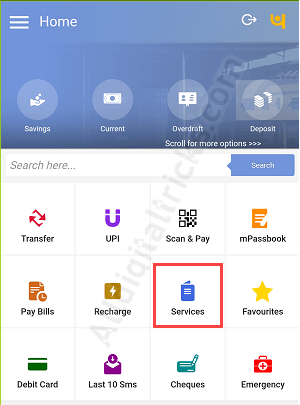 4: In Services, you can see the Debit Cards option, just tap on it. Now tap on Apply for new Debit Card.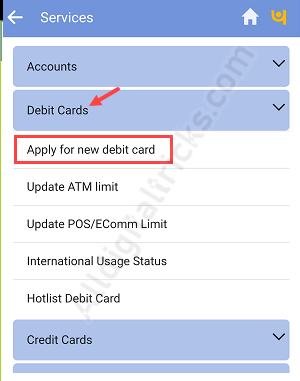 5: And next screen, select your Account number, enter your name which will be printed on Debit card and tap on continue.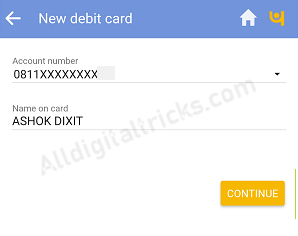 And finally, enter your transaction password and confirm your request.
Please note, you need to block your current Debit card before activation of your new Debit card. You can not hold two active Debit cards for your account.
Your new Debit card will be delivered to your registered mail address within 10 days depending on your location.
After receiving your new Debit card, you can generate ATM Pin online through net banking & ATM.
So by following these steps, Punjab National Bank customers can apply for new ATM/Debit Card online. You can change your Debit card withdrawal limit online. Click here for ATM Debit cards charges: https://www.pnbindia.in/ATM-Debit-Card.html