Want to apply new State bank of India ATM Debit card online? No, you don't need to visit your branch, you can do this online. Yes, now you can apply for SBI debit card through net banking without visiting branch.
Before this online facility customers have to visit the branch to apply for SBI ATM or debit card, but now this process becomes online.
If you want a new upgraded card or you blocked your current card or you haven't any sbi card, then just follow this guide and apply new debit card. See:-
Apply for SBI ATM/Debit card online
First thing, you must have SBI Internet banking facility, if you haven't internet banking user id and password don't worry you can activate your Internet banking online. To activate Internet banking online you need two things 1) your current atm card 2) your registered mobile number
Second thing is that you must register your pan card number with your account, don't worry you can do this form your net banking.
If you have net banking already then continue this guide. Please note, online debit card request facility available only between 8 AM to 8 PM.
1 First login to your Net banking account, visit https://www.onlinesbi.com and enter user id and password to login.
2 After login, click on e-Services tab and then click on ATM Card Services.
3 In ATM Card Services, you can see Request ATM/Debit Card option. Click on it.

4 In the next screen, select your account.
Name on the Card: Enter your name (this name will be printed on your card)
Select type of the Card: Select your card. Bank offers different card like MasterCard, VISA, Rupay.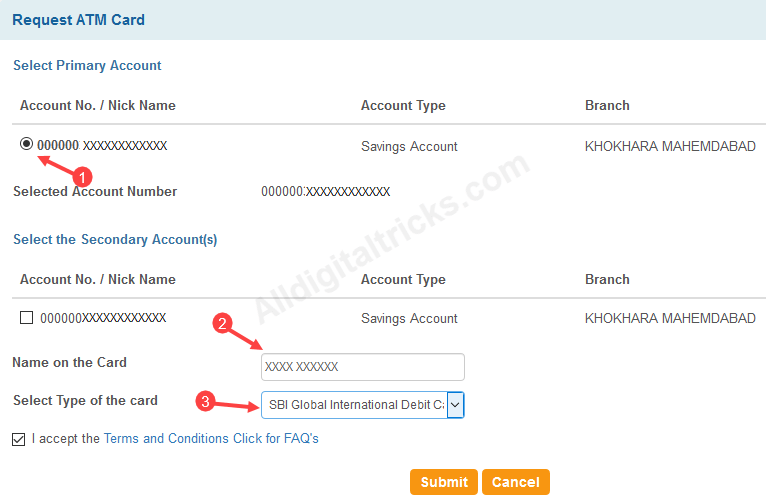 Click on Submit.
5 And last screen, confirm your Address and submit your ATM card request.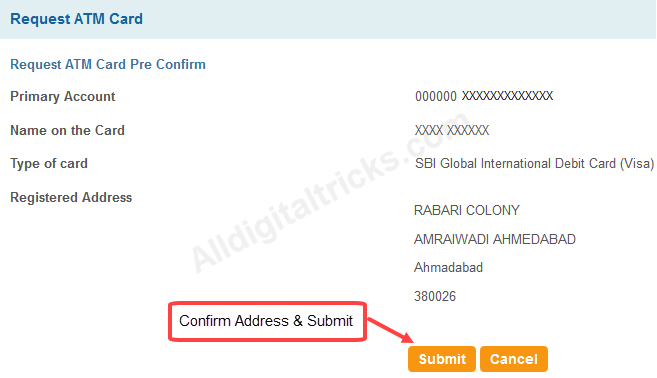 6: Next screen confirm your request by entering OTP or Profile password. Select any option and enter the same.

Congrats, you have successfully applied for sbi atm/debit card online, now wait for 15 days, within 15 days your card will be delivered at your doorstep via courier. It depends on your location so keep patience.
After receiving your new card you need to activate the card and generate pin. You can do all this online through net banking in ATM card services option.
Frequently Asked Questions
Q.1: Net banking require?
Answer: Yes, Internet banking requires to apply online.
Q.2: When I will receive my Debit card?
Answer: It takes 15-20 days to reach your home address, depends on your location. You can track your SBI Debit card online
Q.3: After receive my card how to activate my card?
Answer: After received the card you can activate it online through net banking. Read
Q.4: Can I hold two cards?
Answer: No. Banks do not allow you to hold two cards for a single account.
Q.5: I have ATM CARD but I want new?
Answer: Just Block your current card and apply for a new one.