Yes Bank customers can now request a new Debit card online through Internet Banking. If your card has been lost, blocked or not working properly then you can also submit a request for re-issue debit card for your account.
Here we will tell you – how to apply for new debit card in yes bank online without visiting the branch.
Apply New Yes Bank Debit Card Online
Login to Yes Internet Banking.
After login, click on the Debit Card Request link under the request menu. Select the "New Card" option and your account number and submit your request.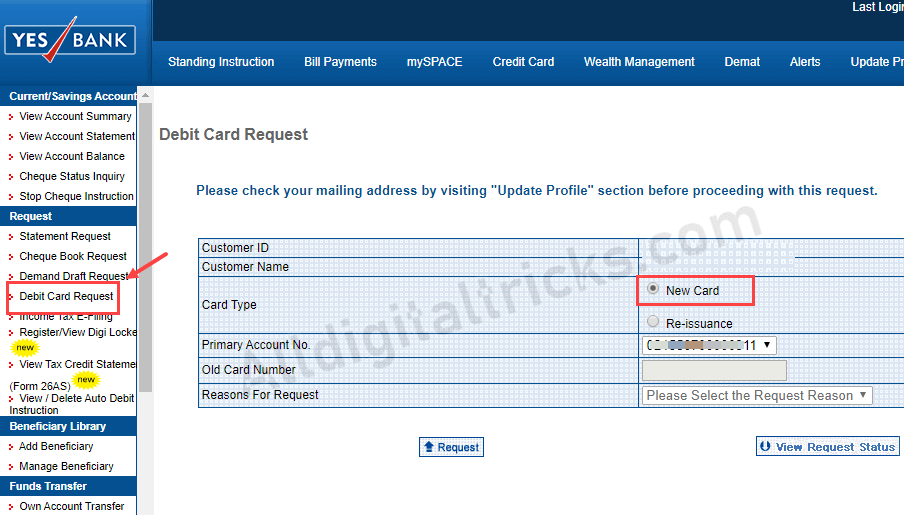 That's all you have successfully applied for a new Debit card in Yes Bank.
How To Re-issue Debit Card in Yes Bank Online
If your current Debit card has been lost or not working properly then you can request -re-issue debit card online through net banking. After submitting your request, the bank will re-issue a debit card for you.
Login to Yes net banking.
Click and open Debit Card Request option under Request. Select "Re-issuance" option, your account number and Reasons For Request. Now submit your request.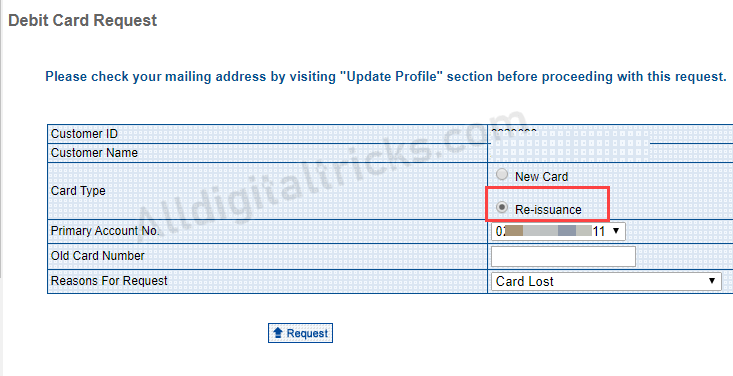 In case of Re-issue of Card (the card not working on ATM/POS), the existing card will be hotlisted within the next 48 hours and will not be available for use.
How to check Debit card Request Status
You can check your Debit card request status by clicking on View Request Status.
Please note:
The ATM / Debit Card request shall be processed subject to the information and eligibility verification.

Your request will be processed within 4 working days and your ATM / Debit Card will be delivered at the mailing address within 7 working days.

You should receive a Request Confirmation message after placing the request. If you do not receive the same, please contact the nearest branch/contact center.

For Personalized Card/s, please apply by visiting your nearest YES Bank branch.

Charges as applicable will be debited to your account.

In case Card is not received or Lost, wherein you are not in possession of the card, please call YES TOUCH PhoneBanking at 18001200 and get the same hotlisted with immediate effect. Else as a general process, your existing card will be hotlisted within the next 48 hours. Please ignore, if the same is already hotlisted by you.