Advanced Railway Pension Access Network or simply called ARPAN which is an online platform offering exhaustive information, suggestions, and grievances to the pensioners. The network promises solutions to all pension-related issues.
Railway Pensioners can register on ARPAN and get information regarding pension account, the Dearness Allowance rates, rules and regulations governing the payment of pension and several other pension associated matters.
By registering on ARPAN railway pensioners can avail these services:
Check Employee details
Pension payment details
Bank account details
PPO details
Service Details
Register Complaint regarding pension
See how railway pensioners can register on ARPAN railway pension portal.
ARPAN Railway Pension Registration
Step 1: First of all, visit ARPAN railway pension portal: http://arpan.railnet.gov.in/Arpan/home
Now click on "My Account Registration" in Services section.
Step 2: And now enter your Railway zone, Railway unit, Date of Birth, PPO number, your name, and set login password. Enter captcha and click on register. (Please enter your new PPO number, not old PPO number)
Done! if the entered details are correct then, next screen you can see a successful registration message.

Your username is your new PPO number and password is set by you during the registration process.
Now open login page and enter your Username (New PPO number) and login password to login your ARPAN account. After login, you can access many online services regarding your pension account.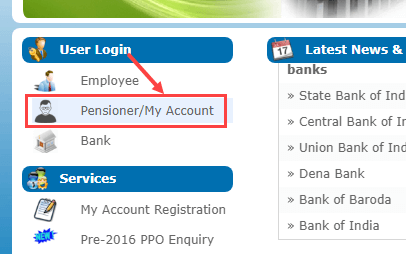 What is my new PPO number?
New PPO number has been issued to all railway pensioners. You already receive this new PPO number from railway via post.
Forgot Password?
If you forgot your password, kindly use Forgot Password link and enter your username and follow password reset process.
So this is how railway pensioners can register on ARPAN pension portal and check pensions related information online. Pensioners can also register a complaint regarding pension issue.