If you are an SBI customer then you can enable the auto sweep facility for your saving/current account and earn an FD return from your saving/current account balance.
The auto-sweep facility is a combination of savings account and a fixed deposit account. When this facility is enabled for your account, you will get both savings and FD account benefits. With an auto-sweep account, your savings account is linked to a fixed deposit account and a monetary limit is defined. Whenever the amount in the savings account/current account crosses that defined limit, the excess money is transferred automatically into the fixed deposit. This way, your savings account balance can earn a higher rate of interest.
Hope you now understand what is Auto sweep facility, now let's see how to enable this for your SBI account.
How to Enable Auto Sweep in SBI Account using Net Banking
If you have SBI net banking facility then you don't need to visit the bank to enable the Auto sweep facility for your account, just follow these 3 steps, and you are done.
(1) Open SBI internet banking and login using the username and login password:
(2) After successful login, click on "Deposit & Investment" option and open "Deposit"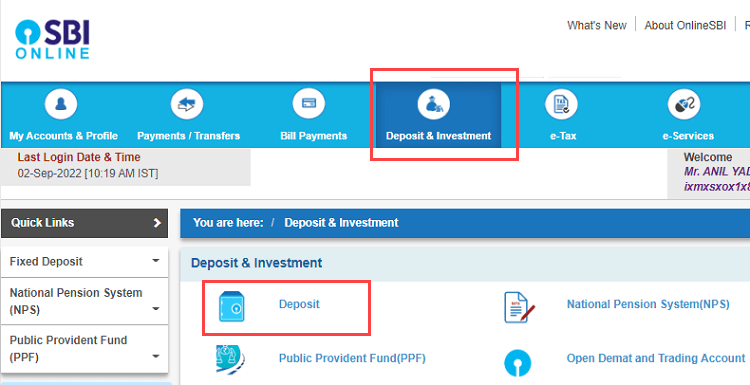 (3) Next screen you can see "Auto-Sweep Facility (Grow your money)" option, click and proceed.

(3) And the next screen, select your account number in which you want to enable the Auto sweep facility and submit your request. You need to verify your request thru OTP sent to your registered mobile number.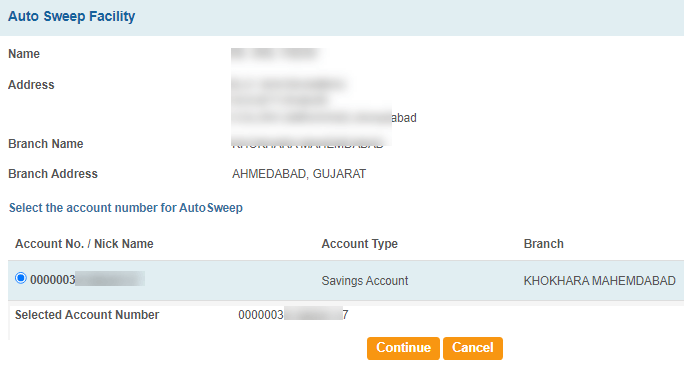 So this way SBI customers can enable the auto sweep facility for their savings or current account and earn FD interest rate on the balance. If your saving account has an above 25000 balance, you can activate the auto sweep facility and earn an FD interest rate instead of a normal saving account interest rate.