Axis Bank Debit Cards working well on International websites. You can use your Debit card to purchase products and services from International website.
You can also link your Axis bank Debit card with PayPal and pay through PayPal using your card.
For International usage first, you need to activate your Axis Debit card for International use. If your card declined an International transaction that means your card currently disabled for International usage and currently set usage for Domestic use only.
Here is step by step guide on how to activate International usage for Axis Bank Debit Card.
Activate International Use for Axis Bank Debit Card
First, you need to login to Axis Internet Banking. If you don't have Net Banking facility, kindly activate it online. Read: How to activate Axis Bank Internet Banking
(1) Login to Axis Bank Net Banking: https://retail.axisbank.co.in
(2) After successful login, click on Accounts and then click on My Debit Cards.
(3) Now select your Debit Card and in More Services,  select Change Usage Preference and click on Go.
(4) And next screen, if you can see New Usage Preference "International" that means currently your Debit Card not enabled for International usage. So click on Proceed.
(5) Next screen, enter NetSecure code (OTP) received on your registered mobile number and click on confirm. (If OTP not received, click on Resend button)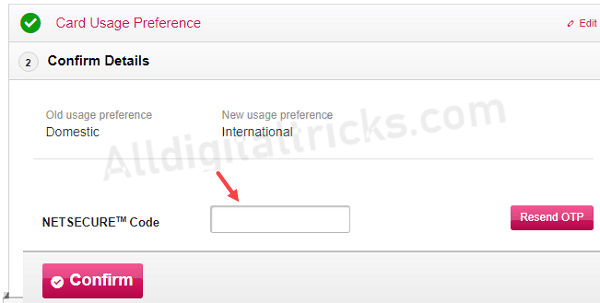 After entering OTP, your request will be submitted and International usage for your Axis Bank Debit card will be activated within 1 working days. You can also set the limit for your Debit card.
Please note – except Rupay Debit card, all Axis Bank Debit card working well for International usage. Just follow the above process and activate International use for your axis bank Debit card.
Do you know with Axis Asap saving account, you will get a free virtual Debit card which also working everywhere.