Axis Bank Credit card users can enable International usage online for their credit card and use the credit card for International transactions online/offline. If your Axis Bank Credit card also supports International usage then you can also activate your card for global usage using mobile and net banking.
If you are an Axis Bank saving account holder then you can apply for Axis Bank credit card online without any paperwork using Mobile Banking or by visiting the website.
Here we will guide you – how to use Axis Bank Credit card for International transactions.
Axis Bank Credit card International usage activation Thorugh Mobile Banking
Login to Axis Mobile Banking app and Open Credit Cards option.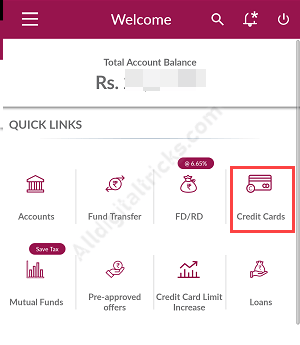 Next screen select your credit card and tap on the Total Control option.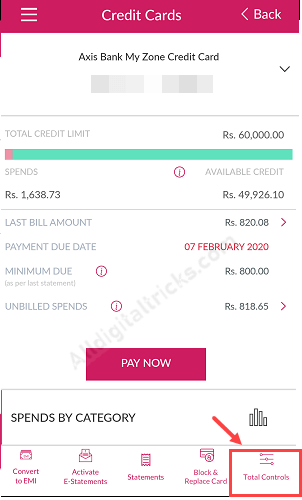 Now tap on Manage Usage option.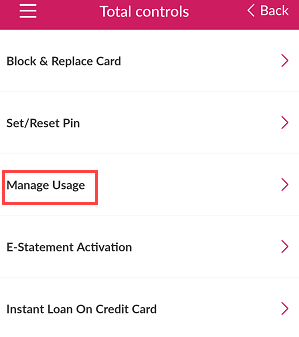 And finally, select the International option and turn ON International usage option. That's it, your Credit card is now ready to use for International usage.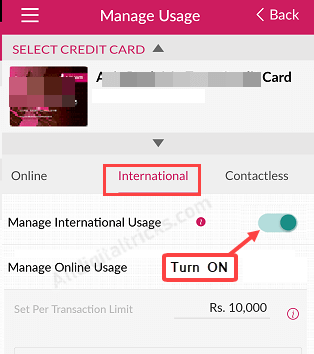 Enable International usage through net banking
You can also enable/disable International transactions for Axis Bank Credit card using net banking.
Login to Axis net banking and click on Services – Credit card services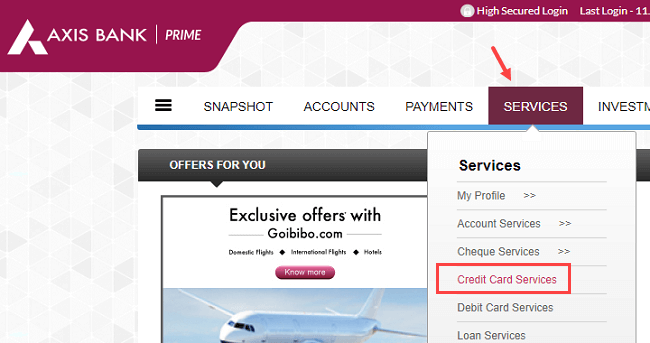 Next screen select your credit card and click on manage usage option. Here you can enable International transactions for your credit card.
FAQs
Q.1: Can I use my Axis Bank credit card internationally?
Ans: Yes, you can use your Axis credit card for International usage online and offline if your card supports international transactions. You can enable this facility by login to mobile banking & net banking.
Q.2: I have Axis my zone credit card, can I use it for International payment?
Ans: Axis my zone credit card does not support international transactions. Kindly upgrade your credit card.
Q.3: Can I disable International usage for my Axis bank credit card?
Ans: If you are not using your Axis Bank credit card frequently for International transactions then you can disable this option and enable it again whenever you want to use.