Bandhan Bank Mobile and Internet Banking facility lets you view and download your account statement online. If you have both online banking facility then you check your account statement at any period of time.
Here we will tell you three methods to get Bandhan Bank account statement. You will get your statement in PDF format.
1. Download Bandhan Bank Account Statement using Net Banking
If you have Bandhan Internet Banking facility then you can view and download your account statement online. You can view and download the last 6 months statement, current financial year statement or any selected time period statement.
Login to Bandhan Internet Banking and click on My Accounts – Account Statement.
Next screen select your account number and select time period like past month, past 6-months, current or previous financial year or select date range & submit.
Now you can view your account transaction history of a selected period of time. Select the PDF option and click on the download button to save your statement PDF file.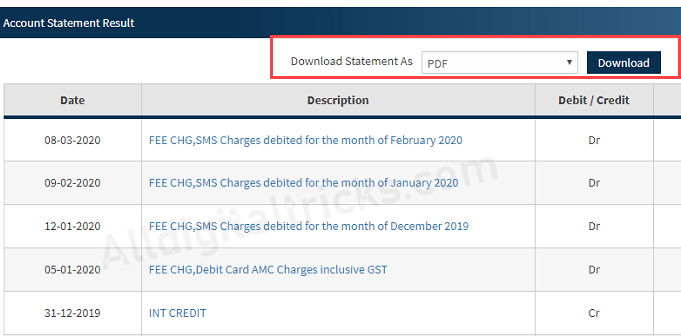 2. View Bandhan Account Statement using Mobile Banking
You can also view your account transaction details using Mobile Baning application.
Log in to the Mobile Banking app and tap on Transaction Accounts.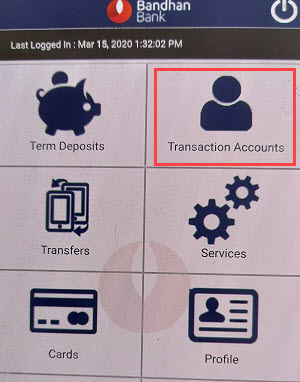 Now tap on Detailed statement and select date range.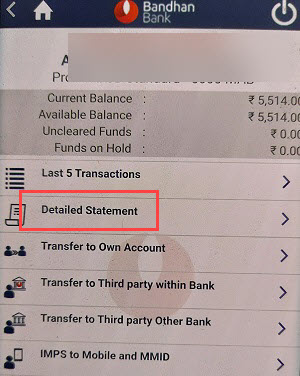 Next screen you can view your statement of the selected date range.
3. Register for Monthly email statement
Bandhan bank customers can also register their account for monthly email statement facility and get account statement PDF file every month on registered email ID.
Just register your email ID with your bank account and your monthly statement facility will be active.
FAQ
Q.1: How to download Bandhan Bank Past 6-months account statement?
Ans: You can use an Internet Banking facility to download the past 6-months account statement in PDF format.
Q.2: How to get Bandhan account monthly statement on my email ID?
Ans: You need to register your email ID with your bank account to activate the monthly statement facility. To register or update email ID, you can log in to mobile or net banking.