Bandhan Bank Mastercard Elite platinum Debit card type Debit card supports the International transaction online and offline. If you have Bandhan Bank International Debit card then you can also use your card for global transactions.
You need to activate International usage (transaction) for your Bandhan Bank Debit card to use your card for International online payments and at ATM. You can activate Bandhan Bank Debit card International usage by login to Internet Banking.
Here is the step by step process – how to enable Bandhan Bank Debit card for International Payments.
Activate Bandhan Bank Debit Card for International Transactions
Login to Bandhan Bank Internet Banking and click on My Services – Debit Card Services
In the Debit card services section, click on Spend Control Feature.
Now select your card number and enable International ECOM, International ATM, and POS option and set a limit for International transactions. (ECOM means Online payments)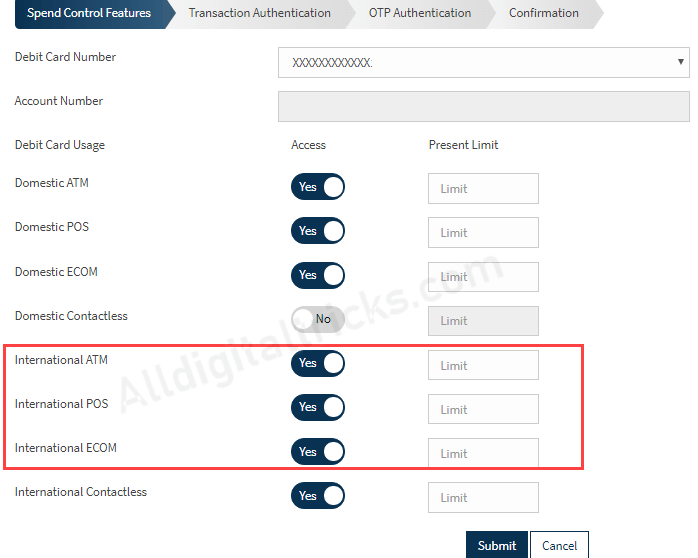 Next screen confirm your details and enter the transaction password.
You will receive an OTP on your registered mobile number, enter OTP and confirm your request.
Congrats, your Bandhan Bank Debit card is now ready to use for International Payments. You can use your card for International online payments and offline.
FAQ
Q.1: Which Bandhan Bank Debit card supports International transactions?
Ans: Bandhan MasterCard Elite Platinum Debit card and other VISA Debit card support International transactions, please confirm from the bank before applying.
Q.2: Can I disable International transactions for my Bandhan Debit card?
Ans: Yes, you can disable your International transactions by login to net banking.
Q.3: Rupay Bandhan Bank Debit card support global usage?
Ans: Rupay Debit card can be used only for the domestic level.
Q.4: Can I link my Bandhan Debit card with PayPal?
Ans: Yes, if you have an International debit card then you can also link your Bandhan Bank Debit card with PayPal.