Do you want to check your Bandhan Bank account Mini-statement of your bank account, if yes then today we are going to tell you 4 methods to check mini-statement of your Bandhan Bank account.
In this facility, you will be able to receive last 3 or 5 transactions activity of your account. If you want to view your last 5 transactions history quickly then this mini statement facility will help you.
4 Ways To Get Bandhan Bank Mini Statement
You can follow these 4 methods to view your mini statement instantly.
1. Missed Call Toll-Free number
MISSED CALL BANKING is a new service from Bandhan Bank which involves Banking by giving a Missed Call to pre-defined mobile numbers. Your mobile number should be registered with the bank against your account number/customer ID level.
For mini statement, please give us missed call at 9223008777
2. SMS Banking
Bandhan Bank SMS Banking service enables you to access your bank account (without data services) on your mobile phone. It is quick and easy, available to you 24X7. You can check your mini statement by sending an SMS from your registered mobile number.
Follow simple steps to register SMS Banking:
Type "REG<space>Account number" and send to 9223011000
Now you can send an SMS from your registered mobile number to get account mini statement.
Send "MINI<space>Account number" to 9223011000
3. Mobile Banking
Bandhan Bank customers can also check the mini statement using Mobile Banking application.
Login to Bandhan Mobile banking and tap on Transaction Accounts.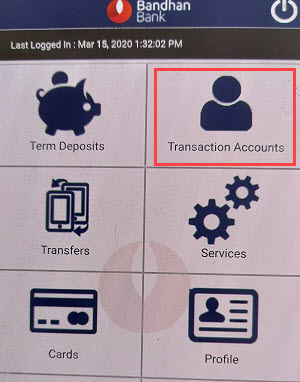 Next screen select your account number and tap on the Last 5 Transactions.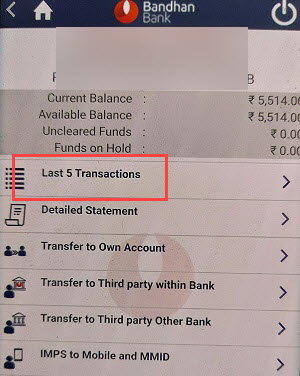 And next screen you can view your mini statement.
4. Net Banking
You can also view Bandhan Bank account mini statement by login to Internet Banking.
Login to Internet Banking and click on My Accounts – Account Statement.
Now select your account number and choose the Mini Statement option and submit.

So by following these four methods Bandhan Bank customers can check account mini statement anytime. You can also view and download the account statement in PDF format and register your email ID to get a monthly email statement.