Are you Bank of Baroda customer and want to download your account 1-year statement? If yes, then you can view and download your BOB 1-year account statement through Internet Banking.
Normally to check 1-year BOB account statement, you need to visit the bank with a passbook, however, if you have Bank of Baroda net banking then you can check online your BOB one-year account statement.
Bank of Baroda customers can register for an email statement facility to get a monthly statement. You can also download 3 months statement through mobile banking. BOB mPassbook is another option to check account transaction history. However, if you want to download one-year BOB account statement then follow the below steps and get your one year statement instantly.
Download 1-Year Bank of Baroda Account Statement
Log in to Bank of Baroda Internet Banking.
After login, click on Accounts and next click on Account Statement More than 6 months.
Now select your account number and enter the date range (Please note, the Statement period cannot be greater than 366 days or 1 Year). After selecting the date range, click on the statement.
And finally, select the account statement format (PDF or excel) and click on the statement to download the file.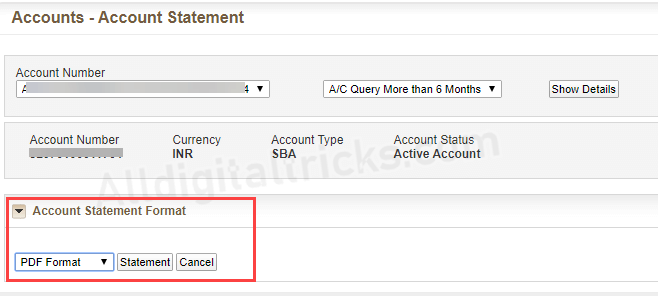 You can open the statement PDF file using any PDF reader application on your phone or PC.
FAQ
Q.1: How to get my BOB one year account statement?
Ans: If you have BOB Internet Banking facility then you can download 1-year account statement in PDF or excel format.
Q.2: Can I open PDF statement file without a password?
Ans: Yes, you don't need to enter the password to open the account statement PDF file.
Q.3: How can I get more than 6 months BOB account statement?
Ans: If you wish to view your Bank of Baroda account statement more than 6 months then login to net banking and click on Account option.