Bank of Baroda (Bank of Baroda) is one of the country's largest public sector banks. There are more than 5600 branches and 10000 ATMs across the country.
At Bank of Baroda, you can open your savings account with Rs.1000 deposit. You will get all banking facility like ATM / Debit Card, Check book, Passbook, Net Banking and Mobile Banking.
You can also order cheque book online in Bank of Baroda using mobile banking and net banking. After successful request, you will receive your cheque book within 15 days via post.
See step by step process how to order Cheque Book Online in BOB.
Bank Of Baroda Request Cheque Book Online
To order an online check book, you must have Bank of Baroda's Mobile Banking or Net Banking facility. Even if you do not have both, you can still order via phone banking.
See how:
1# Mobile Banking (M-Connect Plus)
Bank of Baroda Mobile Banking Application – M Connect Plus is available on Android and iOS platform. You can install and activate this mobile banking application to access your bank account on your smartphone.
You can make an online Cheque Book request through M-Connect plus.
1: First of all you have to login to M connect Plus.
2: After logging in, you have to tap on the Request services.
3: In the next screen you have to tap on the Cheque Book request.
4: Now, select your account number.
Now enter your MPIN and send your request. Within 15 days the check book will arrive at your home.
2# Internet Banking
You can also use Bank of Baroda Internet Banking to request cheque book online. Read: How to Register for Bank of Baroda net banking
1: First visit https://www.bobibanking.com/ and login by entering your User ID & login password.
2: After logging in, you have to click on Services and then click on Request a New Cheque Book as you can see in the screenshot.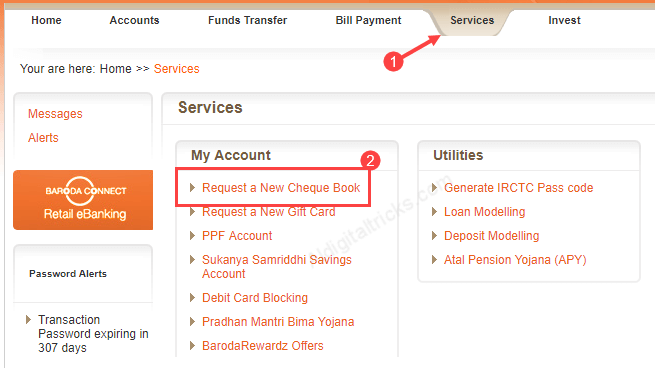 3: In the next screen, select your account number and click Continue.
4: Now you have to confirm your address, if address is correct then select yes and click on continue.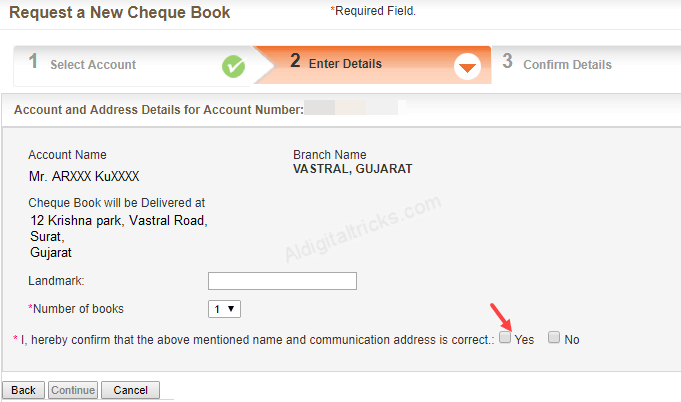 5: In next page enter your user id and transaction password and submit your request.
3# Call Center
Even if you do not have mobile banking or net banking, you can order cheque book through phone banking facility.
Just call these toll-free number from your registered mobile number.
1800 22 33 44
1800 258 44 55
1800 102 44 55
So by following these 3 methods you can request new Cheque Book online in Bank of Baroda.