How to Block Punjab National bank ATM Debit Card: PNB customers can block their ATM Debit card immediately when the card is lost or theft or want to apply for a new Debit card.
PNB net banking, SMS banking, phone banking, and mobile banking facilities now lets you hotlist (block) your debit card permanently.
In case of loss or theft of the card, the Card owner shall immediately Block/Hotlist his /her card to avoid any misuse for safety reason through the following methods:
1# Permanent Block PNB ATM Card using Mobile Banking
You can hotlist your Debit card permanently using PNB One Mobile banking app instantly. Please follow these steps:
Login to PNB One Mobile Banking application.
After login, tap on the Debit Card option and select the hotlist Debit card.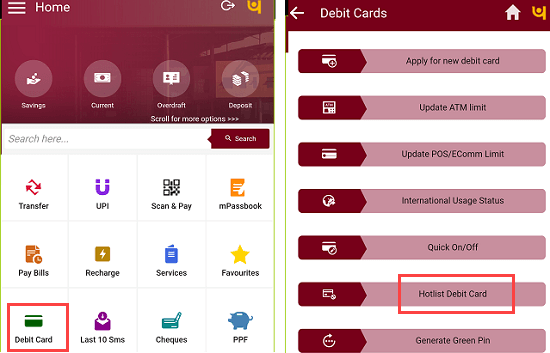 Next screen select your account number and card number and submit.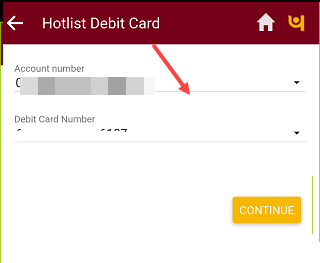 2# Block PNB Debit Card through Net Banking
PNB net banking is a free service from the bank to access and manage online banking services.
To block your Punjab National bank Debit card using net banking:-
(1) Just log in to PNB net banking: https://netbanking.netpnb.com
(2) Now click on Value Added Services and then click on Debit Card Hotlisting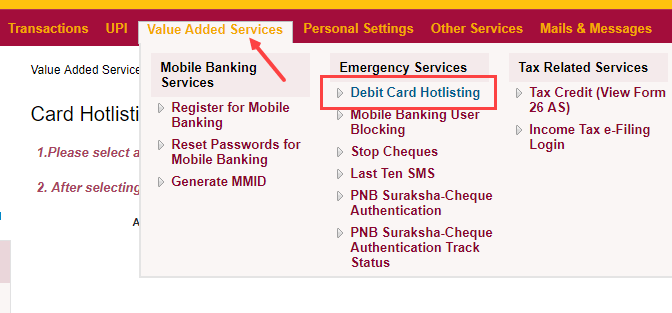 (3) Next screen, select your Account number.
And finally, enter your card 16-digits number and transaction password and submit.
2# Block Punjab national bank ATM card through SMS
PNB customers can block their ATM Debit card by sending just an SMS from his/her registered mobile number.
Send below SMS from your registered mobile number:
Type "HOT<space>Card number" and send to 5607040
(e.g. HOT 5126520000000013)
After sending the above SMS, your card will be blocked permanently.
4# Hotlist using Phone banking
PNB Phone banking toll-free numbers available to help you anytime. Dial 1800 180 2222, 1800 103 2222 or through paid helpline number 0120-2490000.
Follow IVR instructions and select the block Debit card option.
So this is how PNB (Punjab National Bank) customers can Block their ATM Debit card permanent when the card is lost or theft.