Has your SBI Debit Card been lost and no chances to getting it back? So now the first step is block your card as soon as possible. If your card goes in wrong hands, it can be misused, so block it fast.
Suppose you are traveling in a bus and your card falls somewhere in the bus, then in this situation, immediately block your card.
Today I'm going to tell you how to block ATM/SBI debit card.
Here i mention 4 Different methods to block SBI ATM/Debit Card.
So let's start
4 Methods to Block SBI ATM/Debit Card
If you have SBI Internet banking then this work is very easy for you, else you can try SMS or Call center method. Ok, let's see these 4 methods
1. Through SBI Internet Banking
If you have State bank of India Net banking facility then you can simply login to your account and follow this process.
Visit https://www.onlinesbi.com and login to your net banking account.
After logging in, click on e-Services tab.
In e-Services you can see different option on left side, here you need to click on ATM Card Services.
At ATM Card services, click on Block ATM Card.
Next screen select your account number.

Now select your ATM/Debit card and select reason for blocking then submit your request.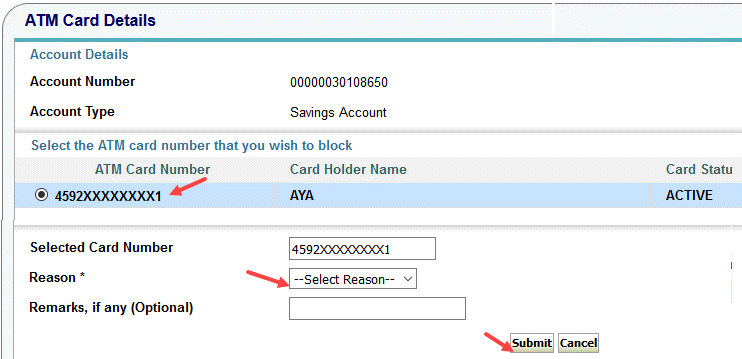 2. Using SBI Anywhere Application
SBI Anywhere is official mobile banking Application offered State bank of India.
To login State Bank Anywhere you can use Internet banking user id and password OR SBI Freedom User Id and Password.
After logging in to SBI Anywhere, tap on Debit card Services.
Next screen tap on Debit Card hotlisting.
Now select account number, card number and reason for blocking, then submit your request.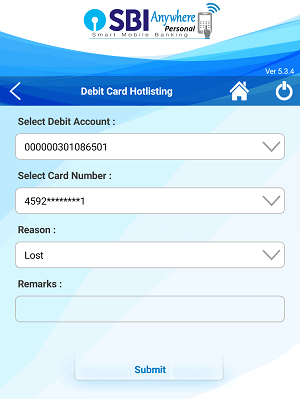 Block without login
At SBI Anywhere you can block your card without login.
Open State bank Anywhere and open different option by tapping on more.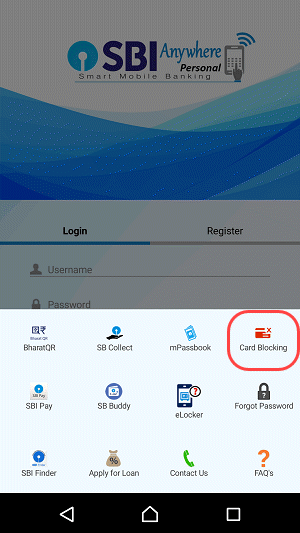 Here select Card blocking.
Next screen, enter account number, mobile number, card number and submit your request.
3. Through SMS
If you have not Internet Banking facility then do not worry, you can block your SBI ATM/Debit card through SMS.
Just Send SMS as below format:
type BLOCK Card Last 4 DIGIT and send to 567667

example: BLOCK 6464 and send to 567676
4. Via call center/Email
The last option is Call customer care number and ask them to Block your card. You can call  below SBI customer care numbers and follow IVR process.
1800112211

18004253800
You can also send an Email message to block you card.
Send message to:- contactcentre@sbi.co.in
So using these 4 methods, you can Block your SBI ATM/Debit card.
Do you know you can now easily manage your SBI Debit card from SBI Anywhere Application.