Bank of Baroda has launched the Mobile OTP application. This will help you generate the OTP on your mobile handset instead of receiving it through SMS. You can generate OTP Online for BOB net banking so you don't need to depend on SMS based OTP sent to your registered mobile number.
Using this facility, you can generate Bank of Baroda OTP online without a registered mobile number through CA Mobile OTP application.
Here we will tell you how to activate Bank of Baroda Mobile OTP facility and generate OTP online.
Bank of Baroda Mobile OTP Activation
1# Open Bob net banking page and log in to your account.
2# After login, click on Services – Mobile OTP Activation
3# Now click on Start Activation.
BEFORE OPTING FOR THIS FACILITY, PLEASE ENSURE THAT MOBILE APPLICATION "CA MOBILE OTP" IS DOWNLOADED AND INSTALLED ON YOUR MOBILE HANDSET.
4# Now select your OS type (Android, IOS, etc), enter the User ID and transaction password and click on the submit button.
5# SMS has been sent to your registered mobile number with the required activation details. Please click on the link provided in the SMS to activate the application.
6# After clicking on the SMS link, you will be redirected CA Mobile OTP application, tap on next and confirm your user ID.
7# Now create a PIN for login and after creating PIN, you will be registered for an online OTP facility.
How To generate Online OTP for Bank of Baroda
Now you can generate OTP online for Bank of Baroda transaction.
Just open the CA Mobile OTP application and log in.
After login, you can see OTP generated automatically and you can enter this OTP for transaction authentication.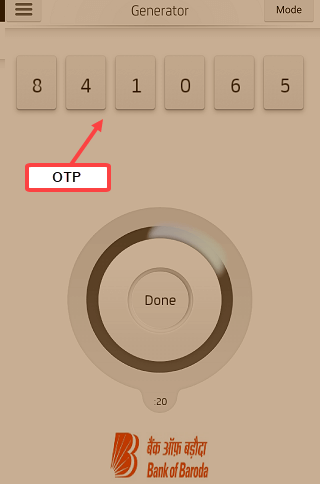 NOTE:
Since this facility enables you to generate OTP on your mobile phone, registering for this facility will disable the functionality of receiving OTP by SMS.
If you wish to deactivate this facility please click the 'Mobile OTP deactivation' link by login to net banking and start receiving the OTP via SMS on your registered mobile number.