Bank of India ATM PIN generation online facility now available through net banking. You can change BOI ATM Pin online and also reset your pin if you forgot your current pin.
BOI net banking facility available for all customers to access online banking services. Online Banking facility can be activated online using Debit card.
If you are Bank of India customer and want to change your Debit card pin online or forgot your current pin and want to reset pin online, then no need to visit Bank for the physical pin.
Just follow below instructions and generate or change your ATM Debit Card pin online.
Change Bank of India ATM Pin online
You can change BOI ATM Debit card Pin online using Internet Banking.
(1) Log in to Bank of India net banking: https://www.bankofindia.co.in/
(2) After login, click on अनुरोध / Requests tab. Now click on Debit-cum-ATM Card.
(3) Next screen, click on Debit-cum-ATM Card Pin change (Required Old Pin)

(4) And now enter your ATM Debit card expiry Date in YYMM format (e.g: 0123) Enter old ATM PIN and set your new ATM pin. Now click on submit.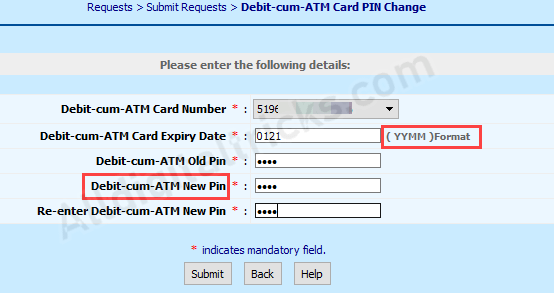 Done! your BOI ATM card pin changed successfully.
Forgot BOI ATM Pin, Generate New PIN Online
If you forgot your Bank of India Debit Card ATM pin then don't worry, you can generate new ATM pin online.
(1) In Debit-cum-ATM Card section, click on Debit-cum-ATM Card PIN Reset.
(2) Next screen, enter your Debit card expiry date in YYMM format. Now set your new ATM Pin and click on submit.
Next screen, enter your transaction password and submit.
Done! your BOI ATM Pin reset successfully.

If you received a new ATM Debit card and have net banking facility then follow the same process and generate ATM pin for your new Debit card.
Please note, Bank of India Online ATM Pin change/generation facility available only on net banking.