You can order/book Indane gas cylinder (Refill) through online, sms, IVR & mobile application. Here we will tell you 4 ways to book gas refill without visit distributor shop.
Ordering gas cylinder is now more easy. With just a call/sms or online, you can order your gas refill. Indane, is a Liquefied Petroleum Gas (LPG) brand developed and owned by Indian Oil Corporation in India. It is the world's second largest LPG marketer.
So let's see how to book Indane gas refill by following these 4 methods.
Book/Order Indane Gas Cylinder (refill) Through Online, SMS, IVR
Make sure you know your Distributor telephone number and your customer ID which printed on your consumer book.
1# Book Online
1: First you need to register at Indane gas online portal here – https://indane.co.in/new_customer
Select your state, district and distributor
Enter your consumer number
Set your user name
Enter your email address and mobile number
Submit your registration details.
2: After complete registration, you can now login to your account. Visit login page and enter your username and password which sent on your email address.
3: After login, click on Service Request – Book Cylinder
4: Next screen select Cash on Delivery or Online payment option. You can pay online too using net banking, debit card. Select payment option and click Book now.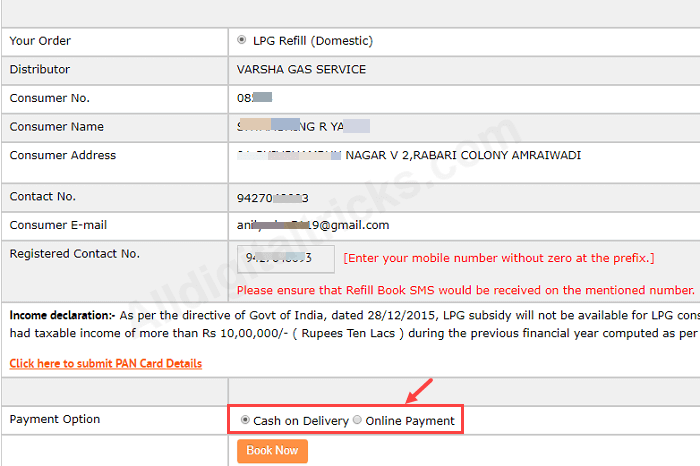 Done! your cylinder booking request accepted.
2# Order through SMS
If you are not comfortable in online booking or using basic phone then SMS based booking facility for you. You can book Indane gas refill by sending just an sms.
See how:-
1: You need to complete simple registration process first:-
SMS IOC < STD Code + Distributor's Tel. Number > < Consumer Number > & send to your city IVRS number (Find here your IVRS number)
After registration, you can book gas cylinder using same mobile number. To book gas refill SMS <IOC> and send to your city IVRS number.
3# Booking through IVR
Now Book your LPG refill cylinder at YOUR convenience on IVRS 24×7. You need to call your city IVRS number (Call rates apply)
Dial your city IVRS number (Find here your IVRS number)
Select your language
Now enter your distributor landline number and confirm
Enter your customer ID and confirm
Select 1 to book gas refill.
4# Order through Mobile App
Indane gas official mobile application also available for Android. You can install this application and login using user name and password.
1: Install Indane mobile application.
2: Open and login to your account.
3: Tap on LPG Refill order.
So no need to visit your distributor shop to book gas cylinder. Use any above method Online, SMS, IVR or mobile application to book Indane gas.