Zerodha Coin now lets you invest in the Sovereign Gold Bonds scheme online. You can invest in this scheme and manage your portfolio from Zerodha Kite and Coin application. If you are using a Zerodha Demat account and planning to buy Sovereign Gold Bonds then follow these simple steps:
Invest in Sovereign Gold Bonds through Zerodha Coin
You can directly buy sovereign gold bonds in Zerodha through the Zerodha Coin website.
(Step 1) First, you need to login to your Zerodha Coin account. Visit (https://coin.zerodha.com/) and login using your Zerodha kite user ID and login password.
After login, click on the "Dashboard" section and here you will find "ETF & SGB" Select this option and proceed (SGB full form is Sovereign Gold Bond)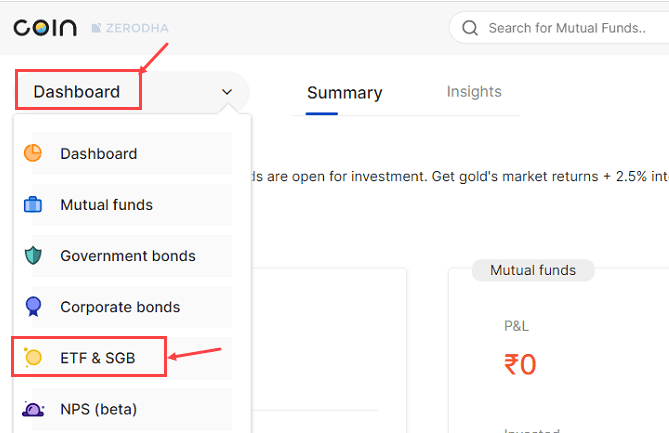 (Step 2) Next screen you can see the Sovereign Gold Bonds scheme is available to invest. You need to buy it before its closing date. Click on the "Place Order" button to buy this scheme.

(Step 3) Next screen, enter the number of units you want to buy. Please note, 1 unit = 1 gram gold. You can see the total amount of units. Here we have entered 1 unit so you can see the single unit price (see the below screenshot). You can also add funds before buying units if funds are not enough. Now click on the confirm button.
(Step 4) Next screen you can see the total investment quantity. Click on the confirm button to place your order.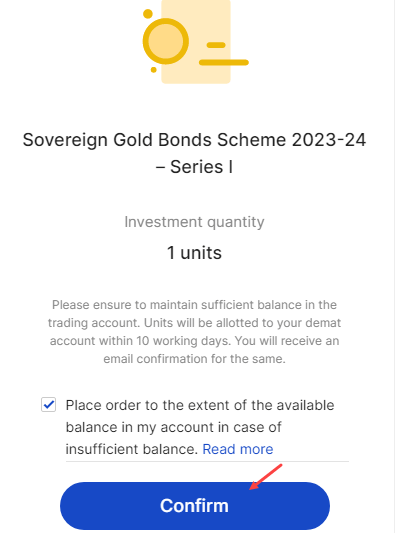 All done! you have successfully invested in the Sovereign Gold Bonds scheme in Zerodha. Units will be allotted to your demat account within 10 working days. You will get an email notification.
To check your Sovereign Gold Bonds scheme investment portfolio, you can open Zerodha Coin or Zerodha Kite mobile application or website.
Please note, if sufficient is funds not available in your Zerodha Demat account then your purchase request will be rejected so make sure you have enough balance in your Zerodha account before buying Sovereign Gold Bonds.