Instead of using Credit/Debit card, i personally use PayPal for online purchases where paypal is supported. PayPal is one of the best solution to receive your payment online or buy services online.
Today i will tell you how to disable pre-approved payments in paypal. before that let's see what is Pre-approved payment.
What is Pre-approved Payment in PayPal
Suppose you have purchased a domain name and paid amount through PayPal. As you know we have to renew domain name every year, so during payment Paypal Pre-approved payment automatically enable, that mean without your concern your money will be deducted every year for domain renewal.
Same thing happened when you buy subscription based services where you have to pay Monthly/Yearly. Your money deducted through paypal automatically.
This thing becomes frustrated when you didn't want to renew the service but due to pre-approved enabled, your money deducted without your knowledge.
So let's stop this automatic renewal charges.
Cancel PayPal Pre Approved Payment
You just need to cancel that automatic renewal payment.
To do this Login to your PayPal Account.
After login, click on Settings icon.
In Settings, click on Payments tab.
Now click Manage pre-approved Payments.
Now here you can see those merchant list where automatic pre-approved payment enabled. As you can see in my pre-approved list bluehost.com enabled for automatic deduction.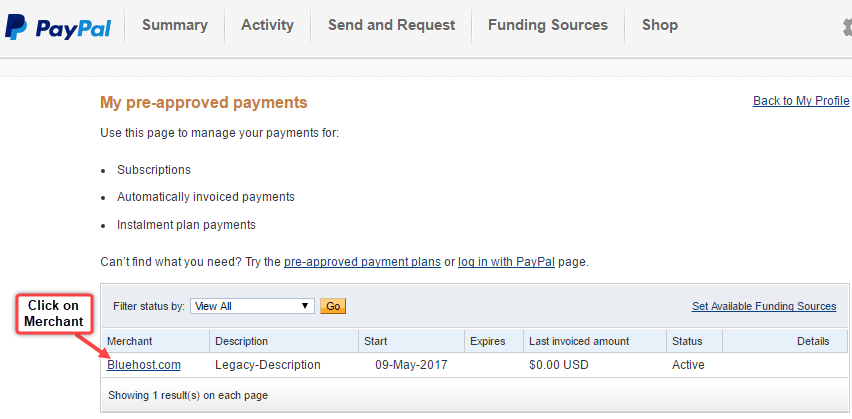 To cancel this, click on merchant (here i click on bluehost.com)
In next screen you can see Status currently is Active, now we have to click on Cancel.
Now confirm your action by click on yes.
Done! now you will not be charged automatically when your subscription need renewal, you can renew it manually if you want.
So this is simple procedure to cancel automatic renewal (pre-approved payments) charges in Paypal.