Here is step by step process – How to Register/Activate Central Bank of India Net banking online.
You can access your Central Bank of India saving account through net banking and make fund transfer, check balance & statement, order cheque book, apply fixed deposit manage debit card and lot more.
To use Central bank of India Internet banking service, first you need to complete online registration process and generate login & transaction password.
Read below online process and activate your CBI net banking.
Central Bank of India – Activate/Register net banking Online
The activation process is very simple. You just need to generate login password and transaction password.
1# First you need to enable net banking for your account. Visit your branch and fill-up net banking request form. Submit your form, the bank person will instantly enable net banking for your User ID (CIF Number). Ask your CIF number to bank person if you don't know.
Wait for 24 hour. Ok so net banking enabled for our CIF number (user ID).
2: Visit Central Bank of India net banking page – https://www.centralbank.net.in/
Click on Login in Personal banking.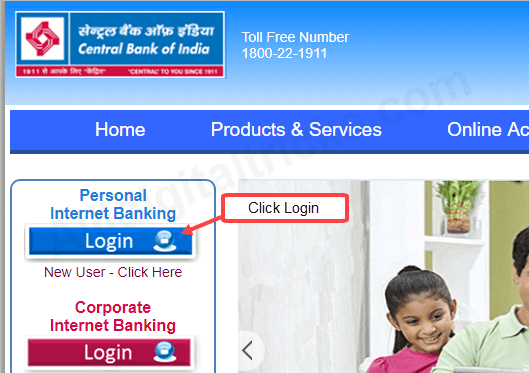 3# In new tab, click on Online Password as you can see below screenshot.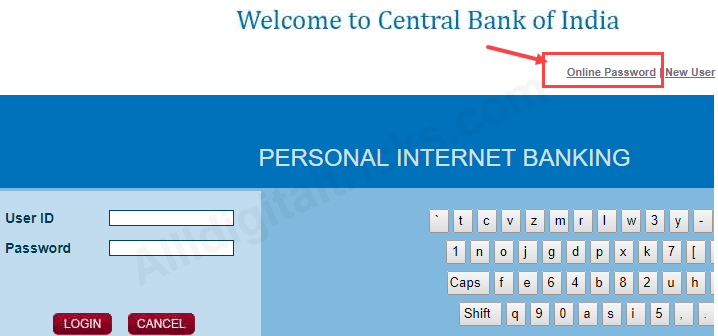 4# In next screen, enter your User ID & registered mobile number. User ID id your CIF number. Enter reg. mobile number with 91 country code. For example: 91989xxxxx. After entering both details click on Generate.

Your login password (PIN) sent on your registered mobile number which is valid for 180 seconds so be quick.

5: Open net banking login page and enter User ID (CIF number) and Login password (PIN) which sent on reg. mobile number. Click on login. (If your login pin expired then generate again)
6: Next screen, accept term & condition. Click on I Agree.

7: In next page you have to set your login password. First enter your login PIN which you recently used to login & then set your new login password.

Your login password created successfully.

Now we need to set transaction password. This password is used to authenticate your transaction and it is your second password for security.
8# To generate transaction password, login to CBI net banking by entering CIF number and login password.
9# After login, click on Others — options — Transaction password Generation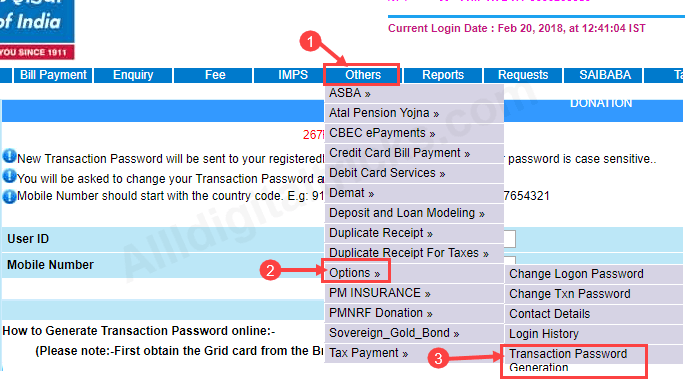 10# Enter your User ID and reg. mobile number with 91 country code.
11# In Pop-up box, select OTP option and submit.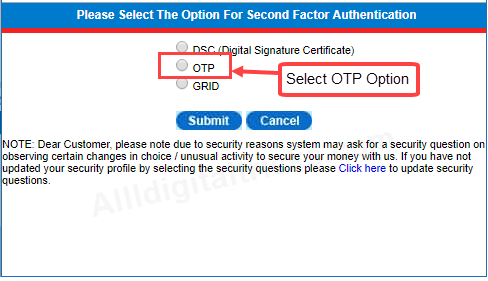 12# You will receive OTP on your registered mobile number, enter OTP and submit.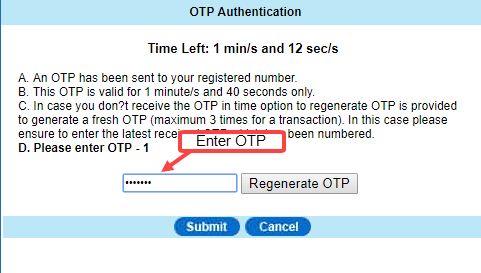 13# You will redirected to transaction password setup page. You will receive another OTP on registered mobile number. Enter OTP in Transaction OTP received and then set your transaction password.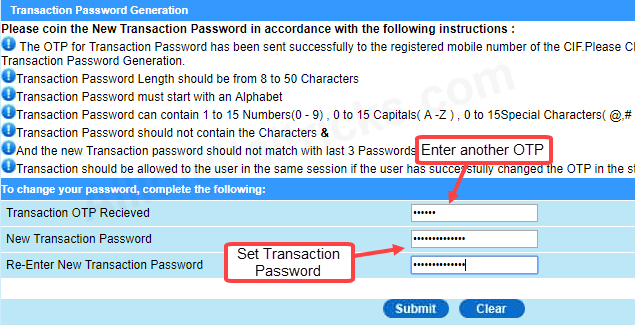 That's it. Your transaction password also set successfully. Now you are ready to use Central bank of India Internet banking facility.

So by following this process you can register/ activate Central bank of India net banking facility online. Before start make sure your enabled Internet banking for your User ID by visiting branch.