Central Bank of India, a government-owned bank, is one of the oldest and largest commercial banks in India. It is based in Mumbai which is the financial capital of India and capital city of state of Maharashtra. The bank has 4730 branches, 5319 ATM's in the country.
Central Bank of India offers different kind of savings account. You can open small saving account with zero balance facility. For regular saving account you just need to deposit Rs.1000.
The process of opening an account in Central Bank of India is now very easy. No need to fill-up physical form. You can apply online for saving account.
When you apply saving account offline by filling physical form, it takes a lot of time. But when you apply online, the account opening process become fast and your account opens immediately.
If you also going to open saving account in Central Bank of India then follow this guide and submit account opening application online.
Apply online for Central Bank of India Saving Account
1 First of all open Central Bank of India online banking portal.
https://www.centralbankofindia.co.in/onlinebanking
Here you have to click on Online Saving Account Opening.
2 In the next screen you have to click on NEW USER.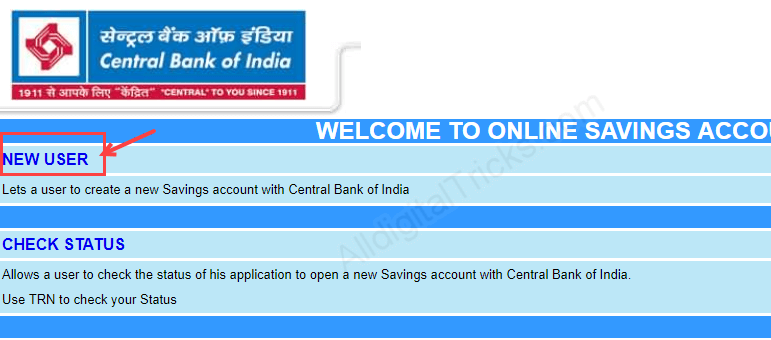 3 In the next page, you have to accept Terms & Conditions and select NO for FATCA compliance. Click on Agree to proceed.

4 Now in the next screen you have to fill the Online Account Opening Application Form. Fill out all mandatory details with * mark.
Select your preferred branch.
Enter your name, Date of birth, Gender, Marital status etc
Type your Full Address
Enter your ID proof details (Aadhaar card, PAN CARD)
Add mobile number and email address
You can also add nominee
After filling all these details, click on Submit. Your application will be submitted to bank. Soon you will receive TRN number on your mobile number, save this SMS for further process.
5 Now you have visit your selected branch with ID proof, Address proof and passport size photo. Aadhaar card and PAN card are enough for ID and Address proof.
Visit your branch and give TRN number to bank person. He will check out your details and then collect your documents. You need to deposit Rs.1000/2000 as initial deposit.
Soon your account opening process will be completed. You will get your welcome kit instantly.
So by following this simple process, you can open saving account in Central Bank of India instantly without filling physical form.