Allahabad Bank customers can now change their branch online through Mobile banking and transfer account to another branch. Allahabad Bank account transfer to another branch facility is now available online.
If you are Allahabad Bank customer and want to change your branch then you don't need to visit the bank, just log in to the Mobile Banking app and transfer your account online.
For some reasons, if you are not happy with your current branch services and facility then transfer your account to another branch online by following the below process:
Transfer Allahabad Bank Account to Another Branch Online
You can change your Allahabad Bank branch using Mobile Banking application. If you don't have Mobile Banking facility, kindly install Allahabad Bank Mobile Banking app and complete a one-time registration process.
Now see how to change branch in Allahabad Bank Online:
Log in to Mobile Banking application and tap on Banking – Account Services – Transfer Deposit Account as you can see below screenshot.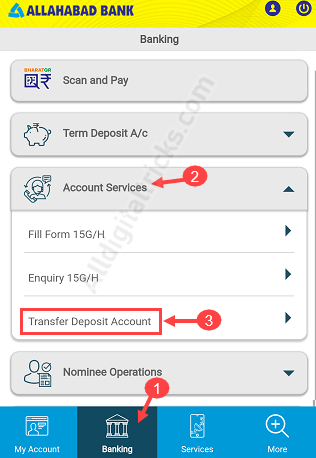 Next screen select your account number and enter the new Branch IFSC code where you want to transfer your account. You can find your new branch IFSC code online, just search on google. After entering the new branch IFSC code, tap Verify button.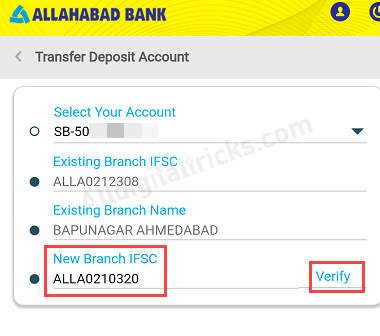 If you entered the correct New branch IFSC code, then you can see new branch name, confirm and submit your request for account transfer.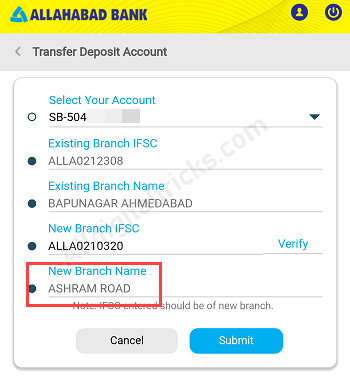 After submitting your account transfer request online, your Allahabad Bank account will be transferred to the new branch within 7 working days. Please contact the bank if you face any problem.
How to check Account transferred successfully?
You can check online through Mobile banking whether account transfer to new branch or not. Just login to Mobile Banking and see account details where you can see account number and other details including new branch IFSC code and name.
FAQ
Q.1: I want to change my Allahabad Bank branch, can I change it online?
Ans: Yes, you can now change your Allahabad Bank branch online through Mobile Banking application. Kindly follow the above steps and submit the account transfer request online.
Q.2: How to transfer my Allahabad Bank account to the nearest branch online?
Ans: You don't need to visit the bank to account transfer, you can log in to Allahabad Bank mobile banking and transfer your account to the nearest branch.