Bank of Baroda customers can now generate ATM PIN online using BOB Mobile Banking. Yes, BOB ATM PIN generation facility now available through Bank of Barda Mobile Banking application.
If you are Bank of Baroda customer and want to change or generate ATM PIN for your ATM/Debit card then you don't need to visit Bank, just open BOB mobile banking application and change or generate PIN online for your ATM card.
Here we will guide you step by step how you can set ATM PIN online for your BOB ATM/Debit card.
Change/Generate BOB Debit Card ATM PIN Online
First of all, you need to active Bank of Baroda mobile banking application on your phone. If you don't have a mobile banking facility, kindly follow this guide and activate BOB mobile banking first.
Now see how you can generate or change ATM PIN of your BOB Debit card online.
Step 1. Login to your BOB Mobile Banking application by entering a 4-digit login pin.
Step 2. After login, tap on the Request Services option as you can see below screenshot.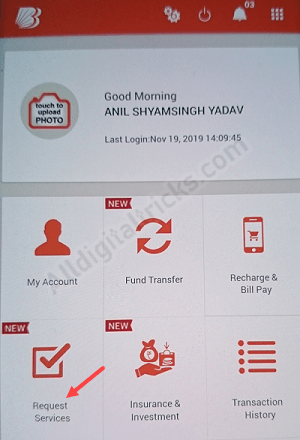 Step 3. On the next step tap and open Set Debit Card PIN.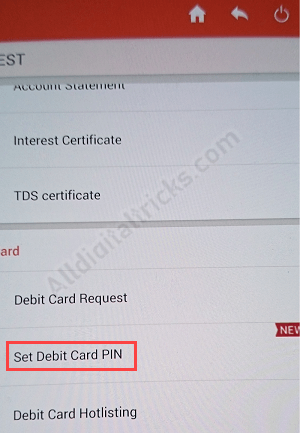 Step 4. And next screen tap on Set PIN option. You need to enter OTP on the next screen which received on your registered mobile number.
Step 5. Finally set your ATM PIN and proceed. Enter 4-digit new PIN and you are done. You can now use your new PIN at ATM.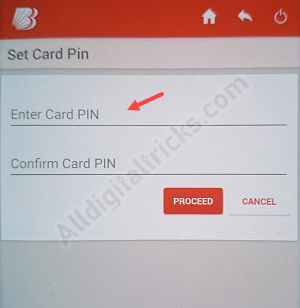 So this is the simple procedure to generate BOB ATM PIN online. You can change your BOB Debit Card PIN online anytime by following this procedure.
FAQ
1) Just forgot my BOB ATM PIN, how to get a new ATM PIN?
Answer: Just follow the above steps and you can generate new PIN online.
2) I don't have BOB Mobile Banking facility what I do?
Answer: You can activate BOB Mobile banking by following these simple steps, no need to visit Bank.
3) After setting a new PIN, when it will be updated for my ATM/Debit card?
Answer: After new PIN generation, your new PIN will be updated instantly and you can make the transaction at any ATM using a new PIN.
So no need to visit your Branch to generate or change ATM PIN for your Bank of Baroda (BOB) ATM/Debit card, do it online.