Corporation Bank customers can now change or generate ATM Pin online for their ATM/ Debit Card. Corporation Bank ATM PIN generation online facility now available through Mobile Banking Application.
What is Corporation Bank ATM Pin generation facility?
Normally, to change/reset your ATM Debit card pin you need to visit the Bank and submit an application form. After submitting an application, the bank will send you physical ATM pin via Post.
But now Corporation Bank provides online ATM pin generation facility so the customer can log in to mobile banking and change or reset ATM pin anytime.
If you forgot your Corporation Debit card ATM Pin or want to change ATM pin, then follow below process:
Corporation Bank Change/Generate ATM Pin Online
Login to Corporation Mobile Banking Application. The Bank provides mobile banking application facility so the customers can access various banking services online.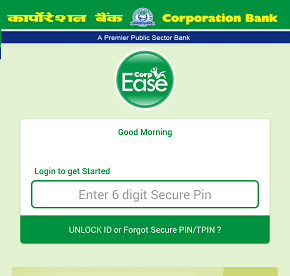 After login, tap and open Request Services and next screen select Reset Debit Card pin.
On next screen, tap on Reset Debit Card pin.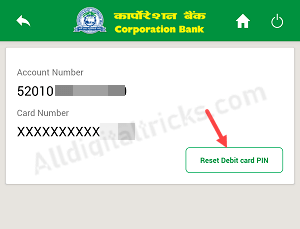 And finally, enter your Debit card expiry date which printed on the front side of your card and Set your new 4-digit ATM Pin.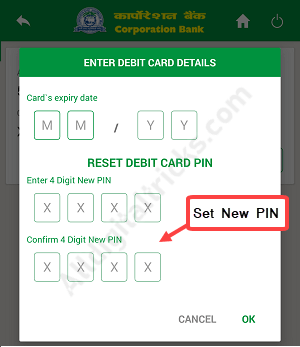 Congrats, you have successfully generated your corporation Bank ATM card Pin. You can use your Debit card with new ATM pin now.
FAQ
Q.1 I have Corporation Bank Debit Card and forgot my ATM Pin.
Follow the above steps and set new Pin by entering your card expiry date.
Q.2 Can I change My Corporation Bank Debit card ATM Pin online anytime?
Yes, you can change it online at any time.
Q.3 My Mobile Banking is not active, what to do?
Just install Corporation Bank Mobile banking application in your phone and register using the mobile number which registered with Bank.
Q.4 Any charges for this online ATM PIN generation facility?
No, Corporation Bank Online ATM Pin generation facility is free and the bank not charging you for this.