Allahabad Bank customers can change/update their registered mobile number online through mobile banking. If you want to register a new mobile number for your Allahabad Bank account then here we will tell you online method on how to change mobile number in Allahabad bank account.
It is necessary to keep updated your Bank account registered mobile number to receive account-related alerts and OTPs. You can not use online banking services properly without a registered mobile number with your Bank account.
If your Allahabad Mobile Banking is active then you can change your registered mobile number online without visiting the branch. If you lost your current number and want to register a new number with your account then follow below process:
Change Allahabad Bank Registered mobile number online
To update your registered mobile number in Allahabad Bank:
Login to Allahabad Mobile banking App. This official mobile banking application available on play store and ios store. Install the application and complete the one-time registration process.
After successful login, tap and open My profile as you can see below screenshot.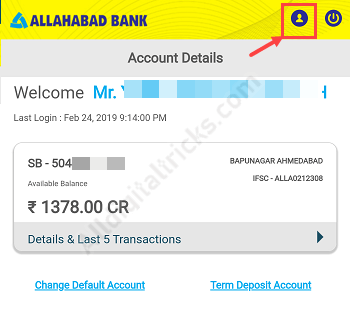 In My Profile section, you can see your current registered mobile number. To change your number tap on Edit button (See below screenshot)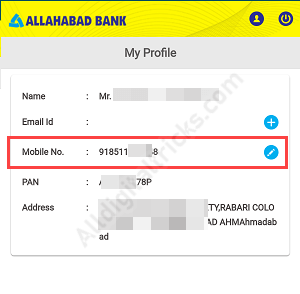 Next screen, enter your new mobile number, again confirm your mobile number, select your Debit card and enter your Debit Card ATM PIN. Now click on the submit button.
Done! your account registered mobile number changed successfully. After successful processing of mobile number update, your application data and cache will be removed permanently. If you want to use Alllahabd Mobile Banking, you have to complete the registration process again after the successful updating of your mobile number.
So this is how to change/update Allahabad Bank Registered Mobile number online. You can change your mobile number online at any time by the following process.
FAQ
Q.1: How can I change my mobile number in Allahabad bank online?
Ans: You don't need to visit your home branch to update your Allahabad Bank Mobile Number. Please follow the above steps and change your mobile number online using Mobile Banking.
Q.2: How can I register my new Mobile Number in Allahabad Bank online?
Ans: If you want to register your new Mobile number for your Allahabad Bank online then login to Mobile Banking and follow the above steps.