ICICI Bank customers can now change or update their account registered address online in a few simple steps, without having to visit a branch. This is a convenient and hassle-free way to update your account information, and it can be done from anywhere in the world with an internet connection.
To change your address online, you will need to have your address proof document handy. This could be your Aadhaar card, Voter ID Card, passport, or driver's license. Once you have your document ready, follow these steps:
How to Change Your ICICI Bank Account Address Online Without Visiting a Branch
(1) Login to your ICICI net banking account. Visit (https://www.icicibank.com/) and login to your account.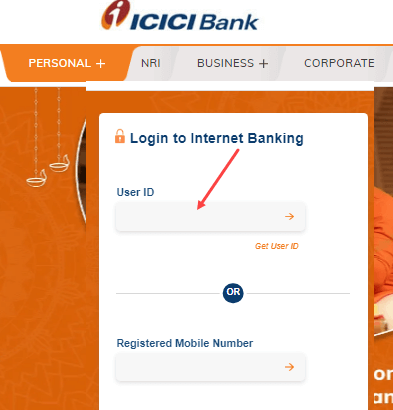 (2) After logging in to your net banking account, navigate to the "CUSTOMER SERVICE" tab and click on "Service Requests". This option will allow you to make various service requests related to your account.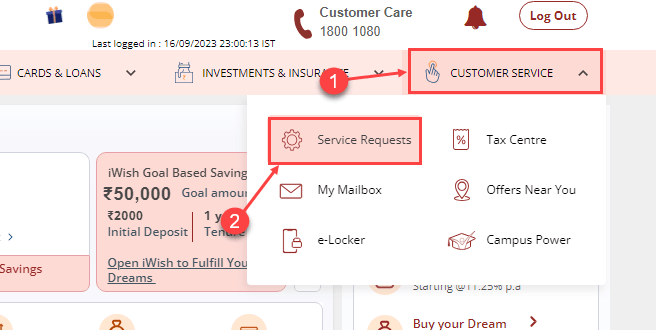 (3) To update your address for your bank account, go to the service requests section and choose "Bank Accounts". From there, select the "Address Change" option to complete the process.
(Step 4) On the next screen, you will be presented with a choice of address-proof documents. The available options include an Aadhaar card, Voter Card, Driving Licence, and Passport. Once you have chosen your preferred ID proof, you will need to upload it to the system. You can choose to upload it via DigiLocker or upload the image of your address proof document. This step is crucial in the verification process, so please ensure that the uploaded document is clear and legible.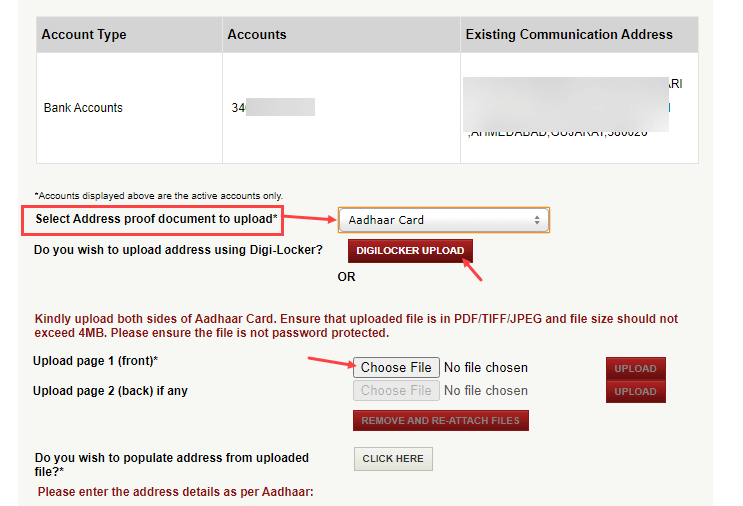 (Step 5) Kindly fill in your address details according to the document you have uploaded. Once you have done so, click on the submit button to send your request for an update of your address.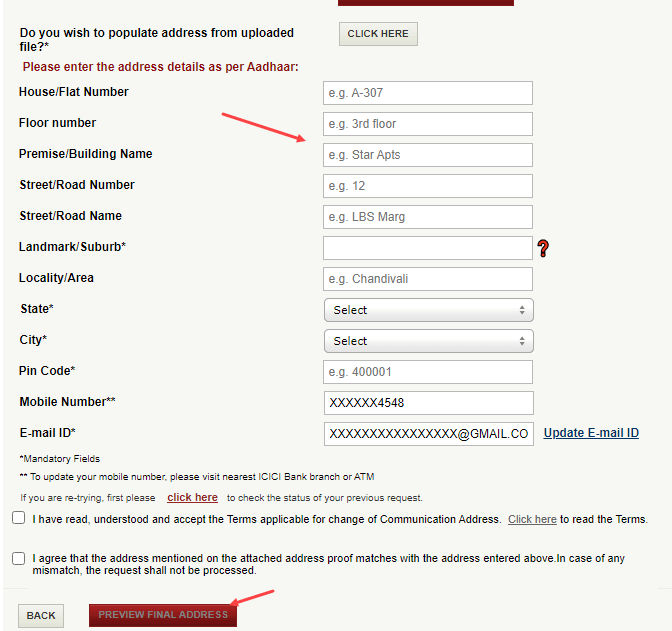 After you submit your request to change or update the address on your ICICI Bank account through the online platform, please allow up to 7 business days for the bank to process it. During this time, the bank will review the details you provided and make the necessary updates to ensure your account information is accurate and up-to-date.
FAQs about changing your ICICI bank account address online
Q. How do I change my ICICI bank account address online?
A. To change your ICICI bank account address online, you can follow these steps:
Log in to your ICICI Bank Internet Banking account.
Navigate to the Customer Service – Service Requests section.
Select Bank Account – Address Change.
Upload your address proof like Voter Card, Aadhaar card, Driving Licence, Passport
Enter your new address in the required fields.
Review your changes and click or tap Submit to complete the process.
Q. How long does it take for my new address to be updated?
A. Your new address will be updated within 7 working days of submitting your request. You will receive an SMS and email notification once your address has been updated.
Q. Can I change my address if I don't have a valid mobile number or email address registered with the bank?
A. Yes, you can only change your address online. Make sure you have valid address proof.
Q. Can I change my address if my new address is outside of India?
A. No, you can only change your address to a new address within India.
Q. Do I need to submit any supporting documents to change my address?
A. You may need to submit a copy of your Aadhaar card, voter card, Driving licence, passport or other valid government-issued ID to verify your new address.
Q. Can I change my address if my account is frozen or suspended?
A. No, you cannot change your address if your account is frozen or suspended. You will need to contact the bank to have your account unfrozen or unsuspended first.