As you all know – you can change/correct your Aadhaar card details online such as Name, Address, date of birth, email address.
If any detail of your Aadhar card is wrong then you can correct it online. Not only this, you can also change your registered mobile number which linked with your Aadhaar card. No need to visit any aadhaar center.
After submitting Aadhaar correction or update request online, you can check your request status online whether it is under process or completed.
Here we will tell you how to check Aadhaar update Status online.
How to Check Aadhaar Update Status online
To correct or update your Aadhaar details you have 2 option. The first one is Online and second is offline through Aadhaar center. You can save your precious time if you do this work online.
Ok so let's see how to check Aadhaar update Status after submitting request online.
After submitting Aadhaar update request online successfully, you will receive URN number to check your status online. Note this number.
1 First you have to visit UIDAI Official Website.
2 At UIDAI website click on Check Status – Updation done online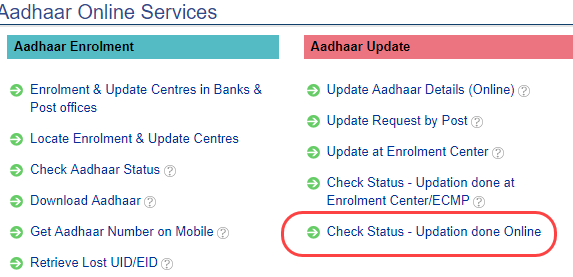 3 In the next screen you have to enter your 12-digit Aadhaar Number and URN number.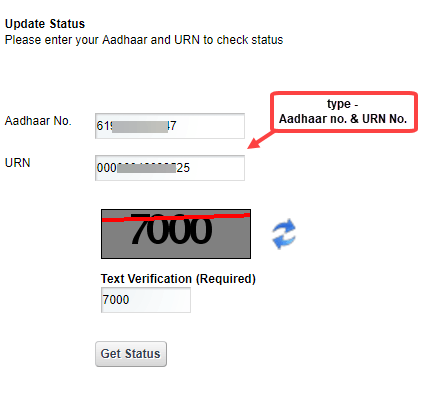 After entering both details, click on Get Status.
Next screen you can see your status update. If your request completed, you can see successfully updated message or if your request not completed yet then you can see it is under process.

When your request completed successfully, you can download your Aadhaar card online and take print out on photo paper. No need to wait new Aadhaar card.
So this is how you can check Aadhaar card update status online.
Read Also: