If you check your CIBIL score from the official CIBIL website, they will charge you a fee. Additionally, many online platforms also charge you for this service. But here we will suggest one online platform where you can check your CIBIL score for free, and it will only take one minute.
Understand What is CIBIL Score (Credit Score)
Your CIBIL Score is a numerical representation of your creditworthiness that appears on your credit report. It is a 3-digit number that ranges from 300 to 900 and is calculated based on several factors such as your credit history, repayment dues, outstanding debt, and credit utilization.
A higher CIBIL score indicates that you are more likely to be approved for credit cards and loans and can avail of better interest rates.
On the other hand, a lower CIBIL score may indicate a higher risk profile and could potentially impact your chances of getting approved for credit or loan applications. Luckily, if your application is approved, you will get it with higher interest rates.
Check CIBIL Score Free in just 1 minute on Google Pay
(1) Install and activate the Google Pay UPI application on your phone and if it is already active then go to below and click on the "Check your CIBIL Score for free"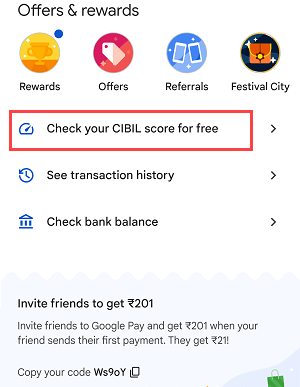 (2) Click on the "Check your Score now" button. (Your CIBIL score does not decrease after you check it)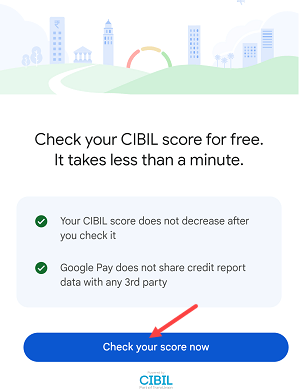 (3) You need to submit your First name and Last name. Make sure you enter your name details as per your pan card name.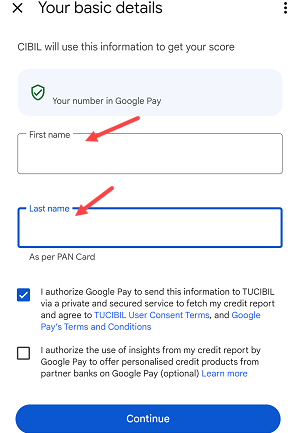 (4) Next screen you will get your CIBIL score. This score will be refreshed after 30 days. Click on the "See full report" button to check your credit card and loan details.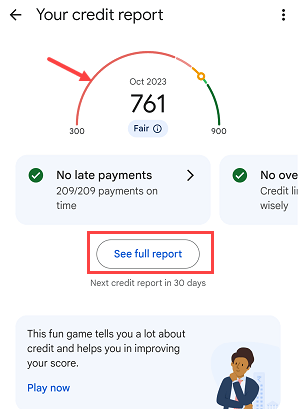 (5) In your CIBIL detailed report, you can check your credit usage. How much money you have used from the credit limit.
(6) You can also check current active loans details and credit cards with total limit. You tap on the credit card or loan to view more details.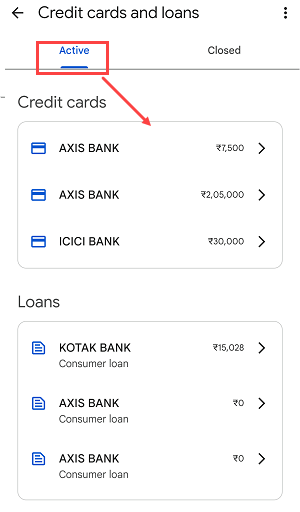 (7) You can also check which loan and credit card closed. If you don't know whether your credit card or loan is active or closed then you can check here.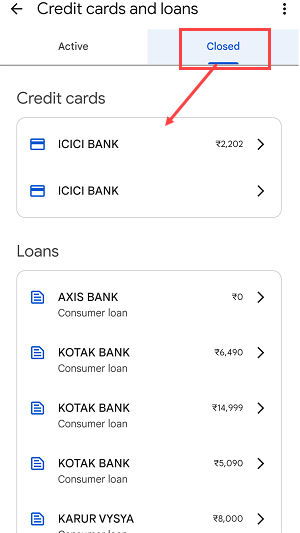 Tips to improve your CIBIL Score
It is crucial to ensure that you pay your Monthly Installments (EMIs) on time to avoid any penalties and maintain a good credit score
It is advisable to avoid relying too heavily on credit cards and loans to prevent falling into a debt trap.
When using credit cards, it is best to keep the credit utilization ratio below 30% of your total limit to maintain a healthy credit score.
Lastly, having multiple loans and credit cards can make it challenging to keep track of your finances and repayments. Therefore, it is recommended to limit your credit accounts to a manageable number to maintain a good credit score.
By following the above step-by-step method you can check your CIBIL score free and get your full credit report in less than a minute.