How to check ICICI account issued cheque status online? The answer is, you check your ICICI issued cheque status through net banking and mobile banking and confirm that issued cheque paid or rejected.
If you just issued Cheque payment to someone from your ICICI account and you want to know that Cheque has been paid or not then no need to visit Bank for inquiry. Simply open ICICI Mobile Banking or net banking and know your Cheque status online.
For some reasons, if you forget issued Cheque number then still you can view its status online.
Here are 2 methods to check ICICI Issued Cheque Status online:
1. Check ICICI Issued Cheque Status Through Mobile Banking
ICICI iMobile Banking is a fully digital banking application which you can install on your phone and manage your bank account online.
For issued Cheque Status Inquiry:-
(1) Login to ICICI mobile application.
(2) After login, tap on Services..
(3) Next screen, tap and open Cheque Book Services and select Check Status of the Issued Cheque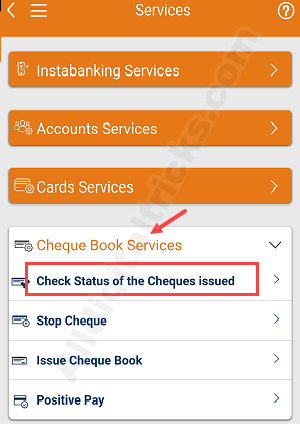 (4) And finally, select the Account number and enter issued Cheque number. If you want to know single Cheque status then type Cheque number in both columns (from..to..) and if you want to know multiple cheques status then enter the issued cheque range numbers. Now submit.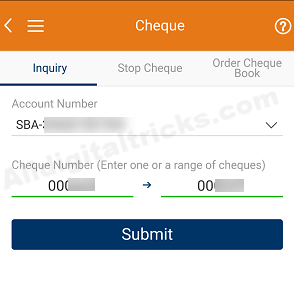 Next screen, you can see your issued Cheque status (paid or not). You can also view multiple Cheques status.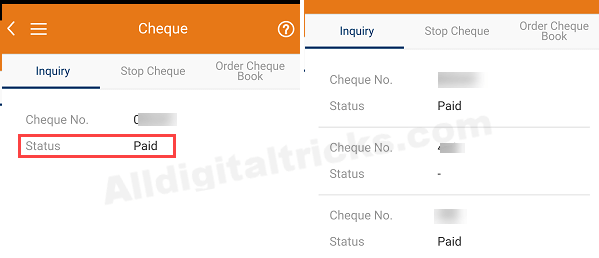 2. Check ICICI Issued Cheque Status using net banking
You can also use ICICI Internet Banking services for ICICI issued Cheque status enquiry.
(1) Login to ICICI Net banking.
(2) After login click on Customer Service — Service Request
(3) In Services, you can see Cheque related services, click on Cheque Status Inquiry.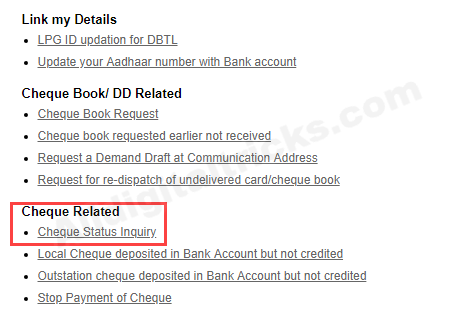 (4) And now enter your single Cheque number and submit. You can also view issued Chequebook all transaction details.

Next screen you can view Cheque paid or not. You can see Paid staus.

If the bank has rejected your issued Cheque then you can see rejected status.

So this is how ICICI Bank customers can check ISSUED Cheque Status online using mobile banking and net banking and know whether it is paid to the beneficiary or rejected.