It has become necessary to link the aadhaar card with your bank account.I hope you aware about this and linked your aadhaar with your bank account.
The main purpose of linking the bank account to the aadhaar is to prevent black deeds like money laundering and bring transparency in banking sector.
If you or member of your household did not linked their aadhaar with bank account then you can do this through online, SMS, ATM or by visiting home branch.
Here I am telling to customers of State Bank of India – How to know that your SBI account is linked with your Aadhaar card?
Check – SBI Account linked with Aadhaar card
You can check online, whether my SBI account linked with aadhaar or not after submitting linking request. There is no such option in SBI Internet Banking where you check linking detail.
Follow this online process to see whether your SBI account is linked to your Aadhaar card or not.
1 First of all you have to visit UIDAI official website.
2 After opening UIDAI website, you have to click on "Check Aadhar & Bank Account Linking Status".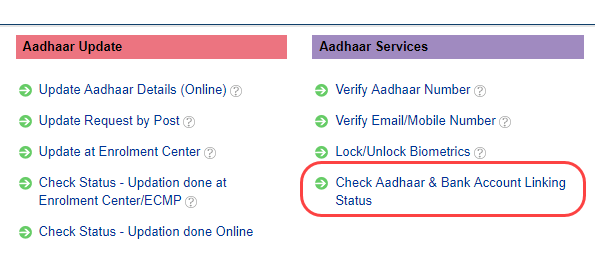 Now the new window will open.
3 Now you have to type 12-digit aadhaar card number and next type security code then click on Send OTP.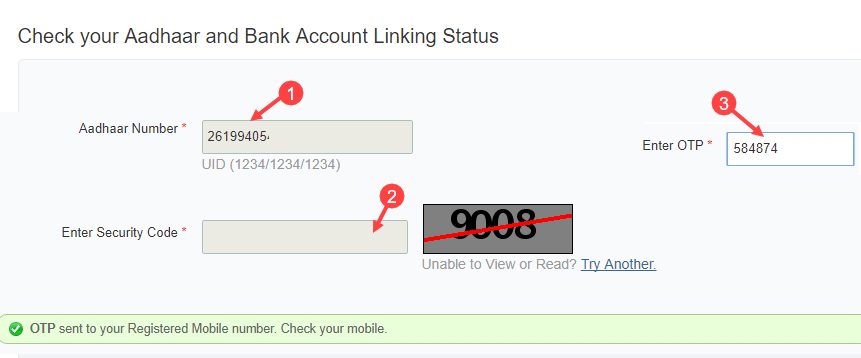 After clicking on send OTP, you will receive OTP on your registered mobile number that you have to type in "Enter OTP".
After entering the OTP, click Login.
After login, next screen you can see your linking status. You can see your Bank name "State bank of India" in and in status you can see "active". That mean your SBI account linked with your account.

So in this way you can check whether your Aadhaar card is linked to your SBI account or not. After sending the linking request, it will link within a week. If your request still pending then visit your branch and submit your aadhaar copy.