How to check whether my Aadhaar card linked with my Bank of Baroda saving account or not? If you have same query then follow the below steps to check online Aadhar – Bank of Baroda account linking status.
As per the directive from Government of India under Prevention of Money Laundering Act, all Individual account holders, all Authorised Signatories of Non Individual accounts and Credit Card Customers need to link their Aadhaar number issued by the Unique Identification Authority of India (UIDAI) in the Bank records before 31st March 2018 or 6 months from the date of account opening, whichever is later to experience uninterrupted operations in the bank accounts and credit cards.
If you recently linked your aadhaar with Bank of Baroda account and want to confirm it, then follow these steps and check online whether aadhaar linked or not.
Check Online -Aadhaar Linked With Bank of Baroda or Not
Let me tell you Now you can link aadhaar with BOB account online through M connect plus mobile banking application.
1: First of all login to Bank of Baroda Mobile banking – M connect Plus.
2: After login, tap on Request Services.
3: Next screen tap on Update Aadhaar.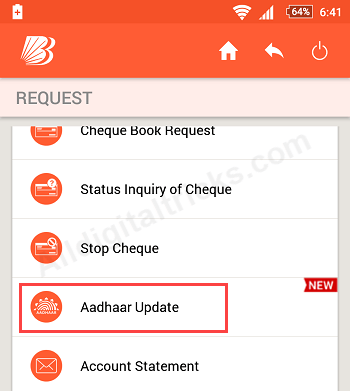 4: Now tap on I Agree.
5: In the next screen, type your 12-digit Aadhaar number, once again confirm it.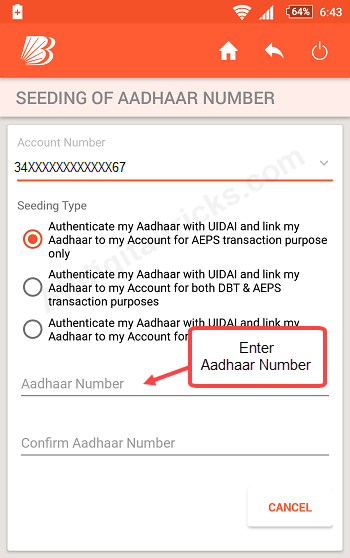 You can now see pop up screen saying that "Already Seeded" that means your bank account is linked with aadhaar.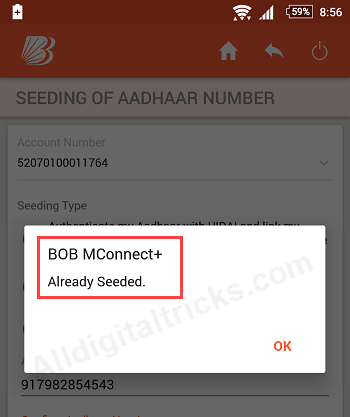 Check Aadhaar card link with Bank of Baroda using net banking
You can also check Bank of Baroda and Aadhaar card lining status using net banking and know whether your Aadhaar card is linked with your bank account or not.
Log in to Bank of Baroda Internet Banking and click on Services – Aadhaar Verification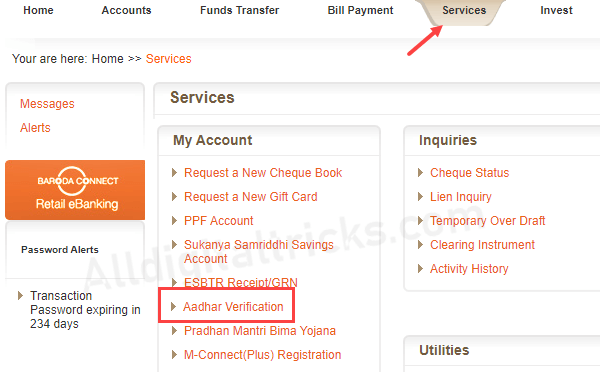 Next click on Check Aadhaar Status

Next screen select your Account number.
And here you can see your Aadhaar linking status. If your Aadhaar card is linked then you can see "Aadhaar is Linked" in the status.