What is your PAN card number? I know you will check your PAN Card to know it, there are only a few people who can remember their PAN number.
Now suppose your PAN Card is lost somewhere, and you know that you can apply for the duplicate pan card online. But for that PAN information is required, if you do not remember the PAN number then you will not be able to.
Then what will you do in such a situation, If you do not remember your PAN card number then how do you apply for duplicate PAN card online?
There will be many such occasions when you will need your PAN number but you will not have any information about it.
Do not worry, you can check your PAN card number online in just a few minutes.
So let's see how you can check your PAN number online.
Check / View PAN Card Number Online
First of all, you have to go to Know your pan page on Income Tax website. You can see the link below.
1 On the Know Your PAN page you have to fill all the details with (*) mark.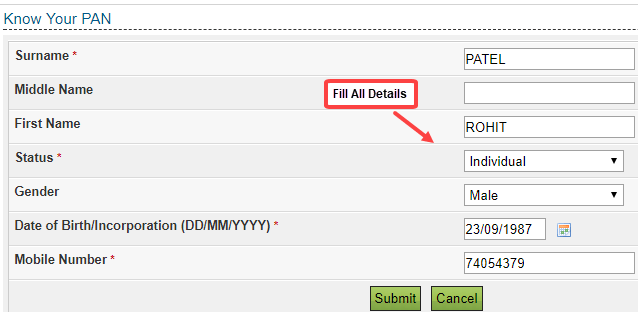 Surname : Type your surname
First Name: Type your name
Status: Select Individual Here
Gender: Select your gender male / female
Date of Birth: Type your Birth Date
Mobile Number: From Pan Card, which you have no mobile number Typed it
After filling all these details, click on submit.
2 Now on the next screen you have to enter the OTP which will be received on your PAN card registered Mobile number.

Enter OTP and click Validate
3 Now in the next screen you have to type your Father's Name & Surname and submit it.
Done! you can see your PAN Card Number on the next page.

So in this way you can check your PAN number online, for that you do not have to fill much details. Just enter your and father's name. Yes, if you do not remember the mobile number then nothing can do. 🙂