You can check your Railway ticket PNR status through SMS and USSD if Internet connection not available on your phone. Just send an SMS from your mobile number to receive current PNR status of your ticket.
PNR stands for Passenger Name Record. The passengers are allotted a number known as "PNR" (Passenger Number Record) that helps them check the status of their reservation. The PNR number of tickets is generated by considering some essential points such as Name of the Passenger, Train No. /Name, Date of Journey, Passenger Address and contact details and so on.
There are plenty of websites and mobile application available to check PNR status but without Internet they all useless. Think if you don't have an Internet connection and want to check your ticket PNR status, in this situation you can check your ticket PNR status through SMS.
Check Train Ticket PNR Status Through SMS
Just send an SMS from your mobile phone and you will receive your current reservation ticket status instantly via SMS. (SMS charges apply)
Send an SMS in below format:-
Type "PNR<space>PNR Number" & send to 139 (eg: PNR 2452452566)
You will receive an SMS which contains the current status of your reservation ticket.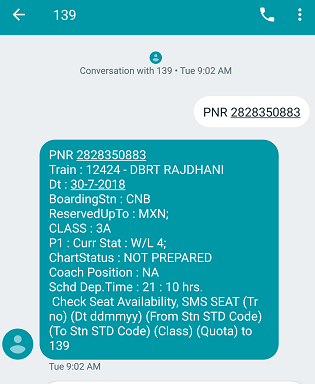 Do you know, you can now check your reservation ticket status on WhatsApp. Read: Check train ticket PNR status on WhatsApp
Check PNR Status Through USSD
This is a new way to check PNR status on your phone.
Just dial *139#
You can see PNR Status Inquiry option on the screen, select it
Enter 10-digit PNR number
SMS charges apply
So this is how Indian railway passengers can check PNR status through SMS and USSD without internet connection.