How to check SBI issued cheque status online?
If you just issued a cheque from your SBI account to someone and want to check status whether it is paid or not then here is step by step online process.
You can activate SBI Internet Banking facility online to access any online banking services. Read: How to activate SBI Net banking online
Normally when you issue a cheque to someone from your account, it takes only 2-3 days for clearing. You will also receive an SMS on your registered mobile number when cheque amount paid to the person.
SBI customers can also check issued Cheque status and confirm it is paid or pending.
Check SBI Issued Cheque Status Online
There is no direct way to find issued Cheque status online in SBI, but still, you can check it is cleared or not by following this method.
1: Login to SBI Net Banking account: https://www.onlinesbi.com
2: After logging in, click and open My Accounts & Profile tab and click Account Statement.
Now select your Account number, select last 6 month, select View and click on proceed.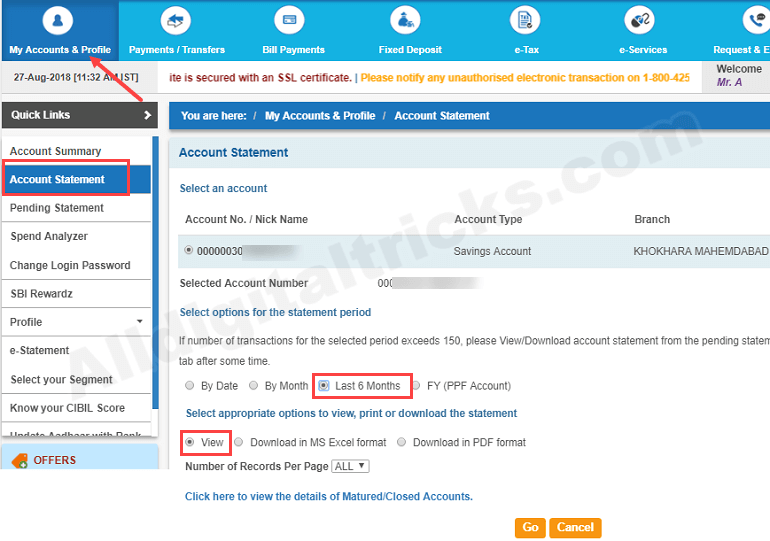 3: And next screen, you can see account statement details, just take a look at your recent transactions and check issued Cheque number. You can see your Issued Cheque number and its status (Clearing to….) and paid amount. Mean your cheque is cleared and amount credited to the beneficiary account.
You can also login to SBI Anywhere mobile Banking or mPassbook facility to check your recent transactions details.
So this is how SBI customers can check Issued Cheque Status online and confirm it is cleared or not. As I said, when your Cheque amount deducted from your account, you will receive an SMS alert on your registered mobile number.