Now check your train ticket PNR status on WhatsApp. Yes, MakeMyTrip has launched WhatsApp based PNR status inquiry facility to check PNR status on WhatsApp.
PNR full form is Passenger Name Record. The passengers are allotted a number known as "PNR"  that helps them check the status of their reservation. It contains all records of passenger and his/her journey details like name of the Passenger, Train No. /Name, Date of Journey, Passenger Address and contact details and so on.
Normally, to check your ticket PNR status you need to visit online websites or install a separate application on your phone. There are plenty of websites and Apps available to check PNR status.
But now you can check your train ticket PNR status on WhatsApp instantly.
Check Rail Ticket PNR Status on WhatsApp
Now no need to install any Application or visit website for PNR status inquiry. Just open WhatsApp and check, see how:-
1: First of all, save this number in your phonebook. +917349389104
2: To check your ticket PNR status, open WhatsApp and open above saved number chat box. (Please refresh your contact list to view this number)
Type "PNR<space>PNR Number" and Send. (Example: PNR 2313443443)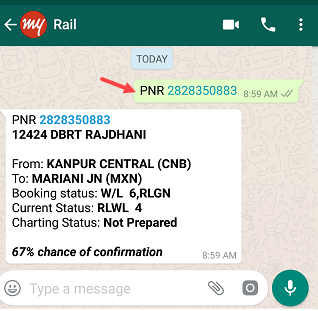 After sending the above message, you will receive the current PNR status reply message within seconds. You can also see ticket confirmation chance percentage if your ticket in a waiting list.
Check Train Live Status (Location)
You can also check train live status (location) on WhatsApp. You can see the current location of the train.
Just type train number in the message box and send. (example: 12548)
So whenever you want to check your railway ticket PNR status, just open WhatsApp, no need to visit any website or install other application.