Today I'm going to tell you 4 Official methods to check your Train Ticket's PNR status.
After the train ticket book, we often have to face a problem that is confirmation of Ticket. At the time of vacation, it is very difficult to get a confirm seat, especially when you book your ticket a few days before Journey.
Whether your ticket is confirmed or not, just how much is waiting list, you can check all thsese from PNR number online, you can see the complete information about your reservation from your PNR number.
PNR means – Passenger name record which stored all database of passenger. You can see the status of your reservation online.
So let's see 4 official methods to check your PNR status.
4 Official Methods To Check PNR Status
By the way, there are many websites, Applications available on the Internet to check your PNR, but they are not so trustworthy.
Indian railway has provided many platforms to see the PNR status that you can use.
1. View PNR Status on IRCTC Application
Official application of IRCTC  is available on Android,IOS, which let's you to book or cancel the ticket. Apart from this, you can also see your PNR status.
To use IRCTC Applicataion, you have to register first, so create your account, then you can use it.
First of all log in to check PNR on IRCTC application
After logging in, open the menu list, and tap on PNR Enquiry
Now enter your 10-digit PNR number and search.

2. View on IRCTC Website
IRCTC's website is one of the most busy websites. Here you can book your train ticket, ticket cancel, tatkal ticket booking, train search, can do many things.
First you need to register and create your account here.
People contact to agent and book their ticket and spend extra money, while you can register yourself at the IRCTC and book your ticket.
If you have booked ticket from IRCTC website then you can login to your account and check the status of the ticket.
First log in to RCTC website
Click on Booked Ticket History after login
Now you can see your Book Ticket in the next screen.
Here you have to click on Get PNR Status, as soon as you click, you can see the detail of your ticket whether it is confirmed and how much is waiting.
3. Check PNR on Indian Railway's Official Site
When you can see PNR status on the official website of Indian Railways, then why go to another website?
First visit the Indian railway website
Now click PNR Status and search your PNR number type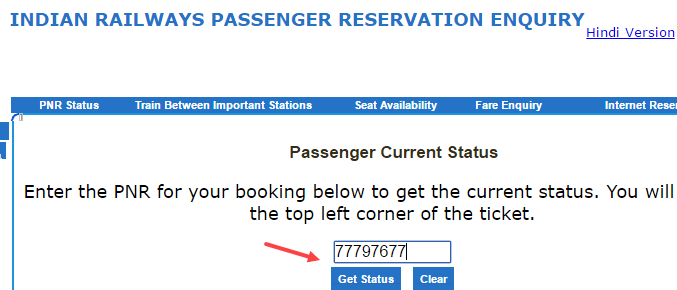 4. View your PNR Status via SMS
You can also check the status of your Ticket via SMS whether Ticket is confirmed or not.
[thrive_text_block color="blue" headline="Send SMS"]
– Type PNR <10-digit pnr number> & send to 139
For example: PNR 1284894737
[/thrive_text_block]
So, in this way, you can see the situation of your train ticket online. Whether the ticket has been confirmed or not, in waiting, RAC, which coach is, all that you can see online from your PNR number.