Do you want to close SBI MOD account permanently? Then no need to visit Bank, you can close SBI multi-option deposit account online.
SBI Multi-option Deposit account is similar to FD account but in MOD  account, you can withdraw any amount from ATM and also transfer money to someone or own account. The interest rate is same in FD and MOD account.
You can open SBI MOD account online using net banking and mobile banking.
For some reasons, if you wish to close MOD account then follow below instructions:
Close SBI MOD Account Online Permanently
First, you need to login SBI Internet Banking, visit: https://retail.onlinesbi.com/
enter user id and login password to login your account.
After successfully login, click on Fixed Deposit and then click on e-TDR / e-STDR (FD)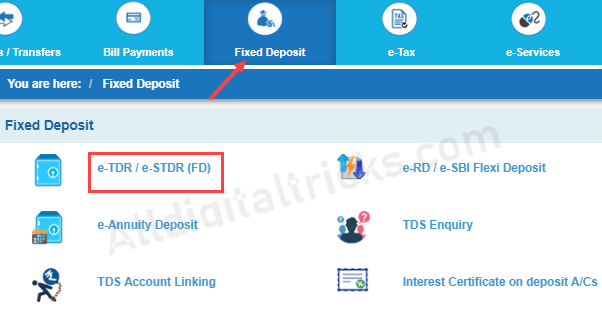 Next screen select "e-TDR / e-STDR (MOD) Multi Option Deposit" and proceed.

Now click on Close A/C Prematurely and proceed.

After submitting the closure request, your MOD account will be closed and the amount will be credited to your saving account.
If you want to withdraw some amount from your MOD account then no need to close it, you can partially break your MOD account and transfer money to your saving account. Read this: How to partially break SBI MOD and withdraw Balance
Please note:
Once MOD a/c is closed, it cannot be activated again.
Closure proceeds will be credited to the same a/c from which the e-TDR/e-STDR was created. If the original debit a/c is closed or has become inoperative, then please request the branch for closure.
Interest paid on premature withdrawal of term deposits could be less than the contracted rate, as per the applicable rule on the date of premature payment. For current rules, please click here.
So this is how SBI customers can close MOD account permanently online.