Do you want to close SBI RD account? If yes, then you can close your SBI Recurring Deposit account online using net banking and mobile banking.
SBI e-RD account can be opened online and you can also Pay RD installment online. For some reasons, if you wish to close your e-RD account then follow the below steps:
Close SBI RD (Recurring Deposit) Account Online
SBI customers can close RD account using Internet Banking and mobile banking. If you have opened SBI RD account online then follow below steps and close your RD account.
1# Close SBI RD Account using Mobile Banking
Open SBI Anywhere Mobile Banking and log in.
Now select e-Deposits widget and select Premature Closure.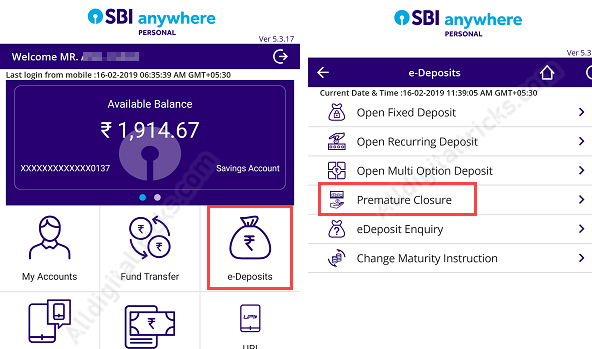 Next screen, select your RD Account number.
And finally, click on the Close button. Done! your RD account closed successfully. The amount will be credited to your saving account including interest amount.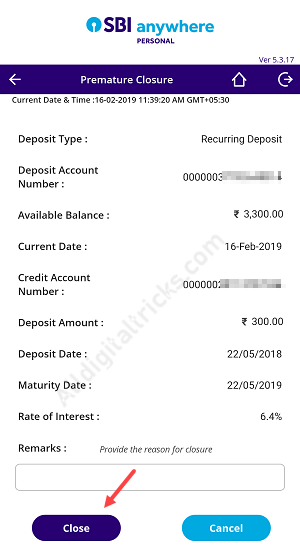 2# Close SBI RD using Net Banking
Login to SBI Internet Banking: https://onlinesbi.com/
Now click on Fixed Deposit tab & select e-RD/e-SBI Flexi Deposit.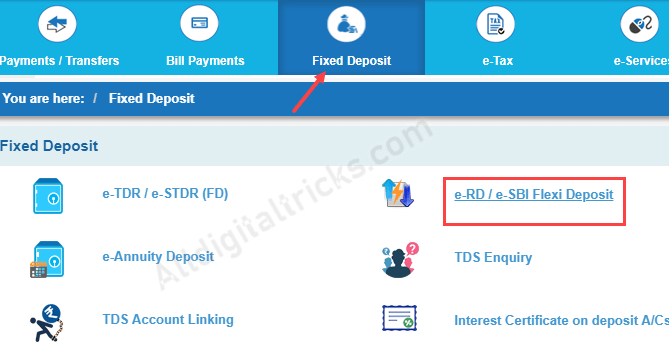 Next screen, click on e-RD (Recurring Deposit) and proceed.

Now select Close A/C tab and select your RD account number and proceed to close your account.

Once RD account is closed, it cannot be activated again.
Closure proceeds will be credited to the same a/c from which the e-RD was created. If the original debit a/c is closed or has become inoperative, then please request the branch for closure.
Interest paid on premature withdrawal of term deposits could be less than the contracted rate, as per the applicable rule on the date of premature payment.
So this is how SBI customers can close RD (Recurring Deposit) account online through net banking and mobile banking.