BHIM (Bharat Interface for money) is a UPI based application developed by NPCI (National Payment Corporation of India). You can transfer money to any bank account from your account through UPI on BHIM.
BHIM UPI now supports all banks, just link your Bank account and start sending money to any bank account using UPI ID or Bank Account & IFSC code.
Here we will tell you how to create UPI ID on BHIM or how to change or customize BHIM UPI ID.
What is BHIM UPI ID?
UPI ID also called Virtual Payment Address (VPA). This unique ID is directly linked with your bank account when you add your Bank account in BHIM App.
With this UPI ID, you can send money to any bank account without knowing the account number and IFSC. Same way you can share your UPI ID and the person will send money to your account without knowing your account number.
Sending or receiving money through UPI ID only works when both Bank account linked with UPI application and have valid UPI ID which linked with his/her bank account.
How to Create UPI ID on BHIM App
By default, your mobile number is set as UPI ID on BHIM after adding Bank account (Example: 784774747@upi)
Now suppose you want to create your own UPI ID which you can remember easily then yes it is possible. You can create your own VPA and set as primary to receive money from any bank account.
See how:
(1) Login to BHIM Application by entering login Pin.
(2) After login, tap on Profile.
(3) In profile, you can see your Primary UPI ID. To create your custom ID, tap on Add UPI ID.
(4) And next screen, enter your desired UPI ID (your name or something) and tap on Check Availability. If available then tap on confirm.
Done! now you can see your new UPI ID created and set as primary.
How to Change UPI ID on BHIM again?
Please note, after setting up your own ID, you can change or edit it again only once.
To change UPI ID, tap on Settings in profile and next screen tap on Edit as you can see below screenshot.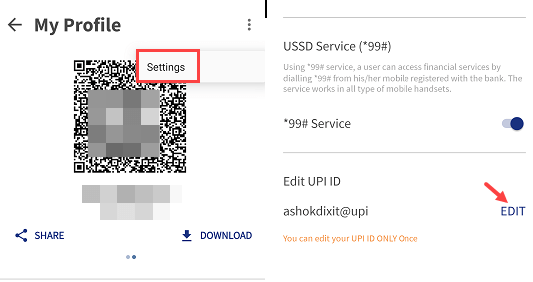 So this is how to create UPI ID on BHIM application. You can now share this unique ID with the person who is sending money to your bank account using BHIM or any other UPI application.