ICICI Bank customers can create UPI ID (VPA) for their account in iMobile Banking application and use UPI facility to transfer and receive money to any bank account and make payment online.
ICICI iMobile Banking application has now inbuilt UPI facility so you don't need to install other UPI application. Also when you create UPI ID in iMobile, you don't need Debit card to verify your account.
After register for BHIM-UPI in iMobile, you can:-
Transfer money to any Bank Account
Receive money through UPI
Pay online where UPI payment accepted
See step by step process how to register for UPI and create UPI ID (Unified payment Interface ID) in ICICI Bank Account.
Create UPI ID for ICICI Bank Account Through iMobile
If you are not registered for ICICI Mobile Banking then first install iMobile Banking application and register your account. Read: How to activate ICICI Mobile Banking
Now see step by step guide:-
Step 1: Login to iMobile Banking application by entering PIN.
Step 2: After login, you can see BHIM-UPI section, tap and open it. (see below screenshot)
Step 3: Now tap on Manage and select My Profile. You will be asked to register for UPI. Tap on Ok.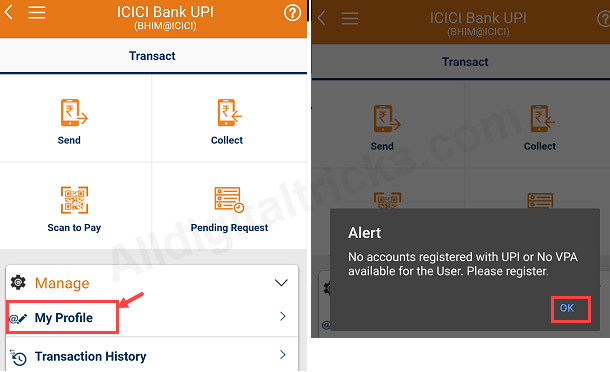 Step 4: Now create your VPA (UPI ID). Enter own choice UPI ID and tap on "Check Availability". You can also select suggested UPI ID. If available then tap on proceed. Your VPA will be created like this "abcd@icici"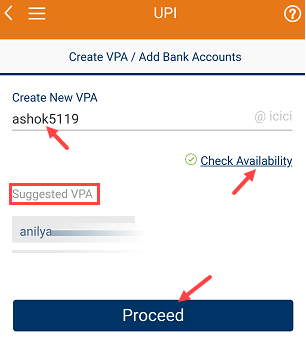 Step 5: Next screen, you need to link this UPI ID (VPA) with your ICICI Bank account. Select ICICI Bank option and then select your Account number. Now select "To send money & To Receive Money" both option in set as default.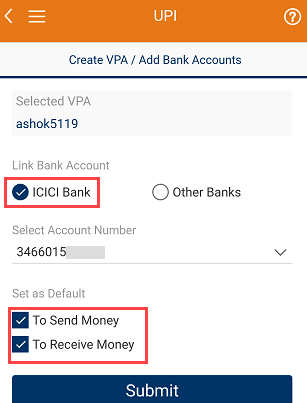 Congrats, your ICICI UPI ID (VPA) create successfully and your account is now registered for UPI.
How To Send Money
To send money from your ICICI account to any bank account using UPI.
just tap on Send. Now enter person UPI ID or tap on Other Modes to select the registered beneficiary. You can add new beneficiary as well. Enter Amount and proceed.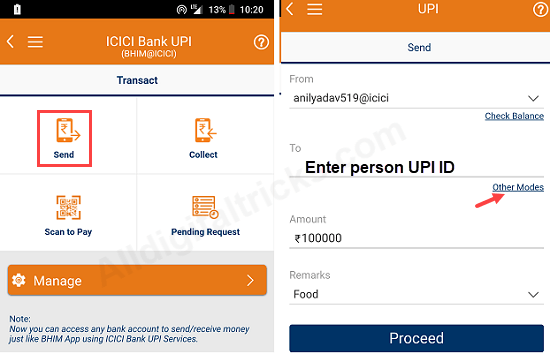 Currently, you can send up to 1 Lac through UPI from your ICICI account to other bank accounts.
How To Receive Money
To receive money from your relative or friend through UPI, just give your UPI ID (VPA) to him. If the person not sending money through UPI then give your account number and IFSC code.
How to Pay Online using ICICI BHIM VPA (UPI ID)
Online websites where BHIM-UPI payment is accepted, you can pay directly from your ICICI account using your ICICI UPI ID. No need to enter debit card details or login to net banking, just enter your UPI ID and approve payment through iMobile, see how:-
To pay online at any merchant site like Amazon, Flipkart:-
In payment option select UPI-BHIM and enter your UPI ID (VPA) and proceed.
You will receive an SMS alert from ICICI to approve payment.
Now login to ICICI iMobile and open UPI-BHIM section and tap on Pending Request. You can see payment is waiting for your approval. Simply tap on Accept to make payment. You can also reject if you want to cancel.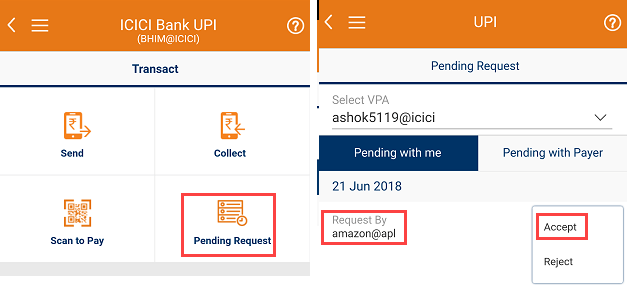 I hope you now understand how to create UPI ID (VPA) in ICICI Bank Account and register for BHIM-UPI to transfer or receive money and make payment online.