Do you want to deactivate HDFC Bank InstaAlert facility? Well, if you don't need this service then you can deregister for Instalert through net banking.
With HDFC InstaAlert (SMS Alert) service you can stay aware of the activities on your accounts, anytime and anywhere. You can get weekly account balance alert, Debit or credit alert, salary credit alert etc via SMS and email.
HDFC InstaAlert is not free service, you will be charged:
Salary/Savings Account: Rs. 15/- +GST per quarter
Current Account: Rs. 25/- +GST per quarter
Well, charges are not much higher and it is a very useful facility to keep your eyes on the account. But if you wish to deactivate this service then follow below process:-
Deactivate HDFC InstaAlert Service Online
Please note, Account Debit and Credit transaction alert are free and it will not disable after deregistering from InstaAlert. Customers who are not registered for instaAlert service will continue to get credit/Debit alert free of charge.
To disable HDFC InstaAlert facility:
1: Log in to HDFC net banking: https://netbanking.hdfcbank.com/
Enter User ID and login Password (IPIN)
2: After login, on top of the page you can see Insta Alerts option, click on it. (see below image)
Now select your Account number and click view.
3: Next screen, select All alert type and click on Delete as you can see below image.
4: Next page click on Confirm button.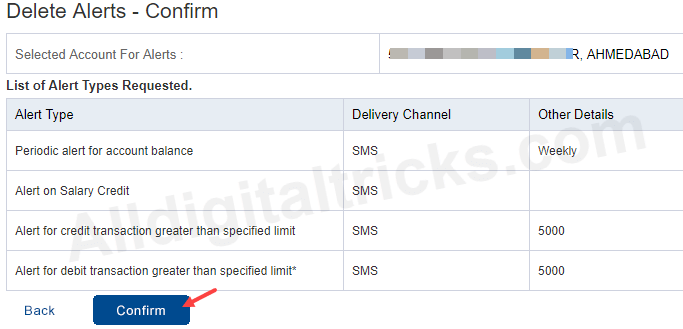 Done! you are now deregistered from Insta Alert facility.
You can enable this facility anytime, just select alerts and add them. Again a reminder, you will continue to get credit/debit transaction alerts.
De-register From Insta-alert using Mobile banking
You can also de-register from HDFC insta-alert service through mobile banking.
Login to HDFC Mobile Banking and tap on My Profile – Manage Alerts. Now de-select all options and submit.
So this is how you can deactivate HDFC InstaAlert (Chargeable SMS Alert) for your account.
FAQ
Q.1: What is Inst alert charge in HDFC?
Ans: For saving accounts, you need to pay Rs.15+GST per quarter and for the current account, you will be charged Rs.25+GST per quarter.
Q.2: What is HDFC Insta-Alert?
Ans: With HDFC Bank InstaAlert facility you will be able to receive banking transactions related SMS alert on your registered mobile number like balance alert etc.
Q.3: How to stop or disable HDFC Insta alert?
Ans: You can stop HDFC insta alert by login to mobile and net banking. Just open Insta alert (manage alert) option and de-select all options.