SBI customers can now easily download their interest certificate of savings account and FD online through net banking. Interest certificates are widely used to complete tax returns. Using SBI net banking, the customer can view and download interest certificates for current and savings accounts, deposits (Term Deposits and Recurring Deposits), and loans.
You can check how much amount of interest is credited to your deposit account in the financial year using this interest certificate and also it will help you to complete your income tax return.
Download SBI Account Interest Certificate Online
If you have SBI internet banking then you don't need to visit the bank to get your account interest certificate, you can login to net banking and download your certificate anytime.
Step 1: Login to your SBI net banking account and open the e-Services – My Certificates section (As you can see in the below screenshot)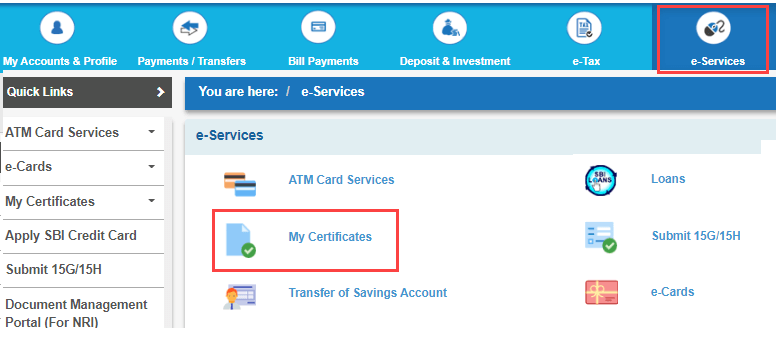 Step 2: In my certificates, you can download your loan account and savings/FD account interest certificates. Click on the "Interest Certificate on Deposit A/Cs" to download your saving and FD account interest certificates.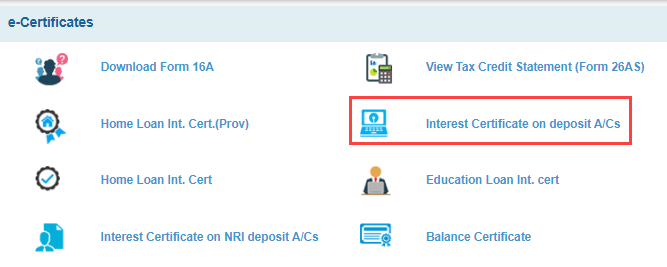 Step 3: Next screen select the financial year.

Step 4: And finally you can view your interest certificate on the next screen. Click on "view/download in PDF" to download the PDF file of your certificate, you can also get it in HTML format. That's it your interest certificate file will be saved in your local storage.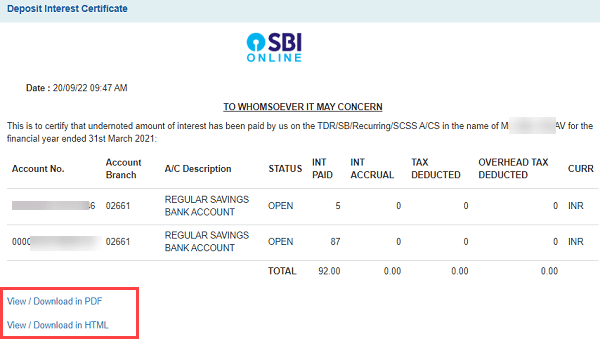 So this is how SBI customers can view and download the interest certificate of their savings and FD accounts. Similar way you can also get your loan account interest certificate.